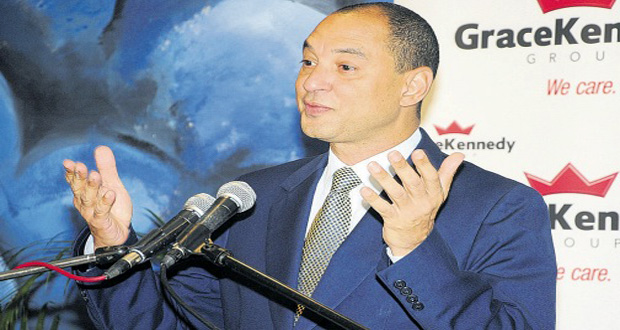 Agent Banking We Knew Was Going To Be "Blue Ocean" Territory
When we started the journey in 2017 to deliver Agent Banking, we knew it was going to be "blue ocean" territory, but we knew we had the right people, brand, products and services to credibly deliver this new innovation to communities across Jamaica.
FINANCIAL INCLUSION:
Agent Banking is another innovation from the GK Group as part of our business mandate of actively participating and leading the Financial Inclusion drive as challenged by the GOJ.
Financial Inclusion is about providing the right financial products and services to the wider Jamaican consumer and businesses to facilitate their natural right to financial stability, growth and protection. This resonated with us at GK.
Research has shown that:
34% of the Jamaican population is unbanked
Only 30% save through a regulated financial institution
Only 11% of Jamaicans and 27% of SMEs access formal credit (borrow from a Financial institution)
80% of Jamaicans have limited access to low-cost, efficient and user-friendly services
GK, through its GK Financial Group arm was perfectly poised to take on this challenge with very strong and well-known brands, First Global Bank, GK Insurance, GK Money Services representing Western Union, BillExpress, FX Traders and GK Proxim. This was a natural move for us.
We have sought to tackle the challenge primarily under 2 of the 4 pillars as defined by the GOJ.
Financial Access and Usage – through electronic instruments – e.g. our GK MPay Mobile Wallet Product
Financial Resilience – Savings, insurance and retirement products – e.g. our GKONE initiative
GKONE:
To answer the call, we developed GKONE. This is our one-stop-shop to provide more Jamaicans access to formal financial products & services from one of Jamaica's most credible and trusted brands…GK. Jamaicans from all walks-of-life can access banking, micro-loans, micro-insurance, remittances, bill payments and foreign exchange trading in ONE PLACE.
We started rolling out GKONE locations in August 2018 at State Mall in Cross Roads and since then have delivered 5 locations including here at Stapharm. Our objective is to deliver 30 of these locations island-wide by the end of 2019.
GK
We firmly believe that every Jamaican deserves a financial sector that is inclusive with the conditions in which they are able to save safely and build up resilience against financial shocks, and firms are able to invest, grow and generate greater levels of wealth. We want to contribute to Jamaica's transformation from a middle-income country to one which affords its citizens higher standards of living and quality of life.
"What is good for Jamaica is good for GraceKennedy"
Don Wehby
Group Chief Executive Officer
GraceKennedy Limited.
Walkbout Aiming To Help SME Tour and Experience Operators Grow Their Business