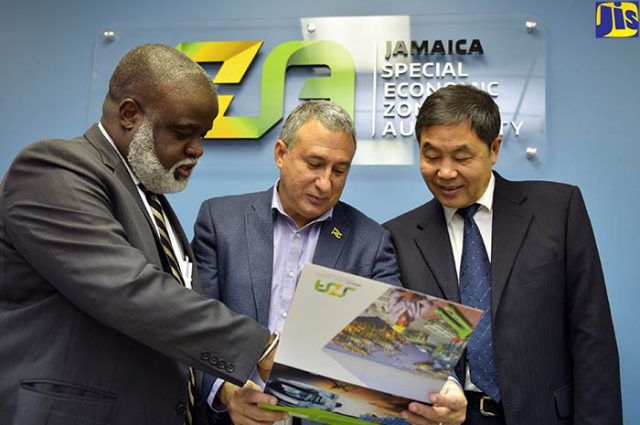 Since Its Establishment JSEZA Has On The Ground US$500M In Investments And 5,000 Jobs.
Photo: JIS Photographer
Jamaica Special Economic Zone Authority (JSEZA) Chairman. Metry Seaga (centre), along with Chief Executive Officer, Dr. Eric Deans (left); and Chairman of the Chinese entity, Jiuquan Iron and Steel Company (JISCO), Chen Chunming, peruse information on the JSEZA, during Wednesday's (June 20) press briefing to announce plans for the development of the Jamaica Gansu Industrial Park and Special Economic Zone in St. Elizabeth by JISCO. The briefing was held at the JSEZA, Waterloo Road, St. Andrew.
Chairman of the Jamaica Special Economic Zone Authority (JSEZA), Metry Seaga, says the Special Economic Zones (SEZ) landscape, when fully mature, will boast many billions in investments and hundreds of thousands of jobs in a range of sectors, including manufacturing, logistics, and business process outsourcing (BPO).
In just under two years since its establishment, Mr. Seaga said the JSEZA already has on the ground more than US$500 million in investments and over 5,000 jobs in SEZs.
Speaking at the official opening of the authority at Waterloo Road, St. Andrew, last week he said that they have seen significant growth in the BPO industry segment and the time is right to start realising significant growth in other areas as well.
Mr. Seaga said that investors from across the globe are establishing businesses locally, noting that interests from countries with which Jamaica has had no previous relations are now knocking at our doors.
He also indicated that local investors are jumping at the opportunity to play their part in the investment landscape and there is a push to connect local suppliers, including small businesses, with SEZ investors.
The SEZs, which will replace the free zone regime, are pivotal elements of the Government's Global Logistics Hub Initiative (GLHI), which aims to position Jamaica as the fourth node in the global supply chain, along with facilities in Singapore; Rotterdam, Netherlands; and Dubai, United Arab Emirates.BM