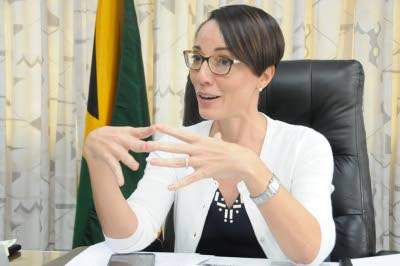 Jamaican Government Looking To Re-Energise Engagement With Private Sector To Benefit Jamaica's Trade Results.
The Jamaican Government is increasing its engagement with the Private Sector Organisation of Jamaica (PSOJ) and the Jamaica Manufacturers and Exporters' Association (JMEA) on trade issues.
The move is in keeping with measures geared at bolstering Jamaica's trade objectives, this as the Government is looking to a new and re-energised engagement with the private sector to the benefit of Jamaica's trade results.
Minister of Foreign Affairs and Foreign Trade, Senator Kamina Johnson Smith, said that an updated Foreign Trade Policy has been approved by the Government and will be tabled as a White Paper in Parliament shortly. The revised policy was before Cabinet for review.
The Minister, who was addressing a press briefing at her Dominica Drive offices in New Kingston recently, said that the policy establishes a framework for coordination across various ministries, departments and agencies and serves to ensure the mainstreaming of trade within national development priorities and objectives.
As a small, open economy, Jamaica needs trade to grow. Trade is important and is, in fact, essential to growth, she told journalists at the press briefing.
Senator Johnson Smith said that an action plan has been developed together with the policy, and consultation held with private-sector stakeholders to define the mechanisms for monitoring implementation of the policy.
She said the objective is to ensure that stakeholders are engaged and not only sharing information but receiving information from the private sector at the appropriate levels and with appropriate regularity.
She stressed that it was not governments, but the private sector that trades, and that they wanted to modernise the means of consultations of engagement with the private sector.
It doesn't make any sense for Government to insist on a way that doesn't work for the private sector if they are truly engaged, she added.BM