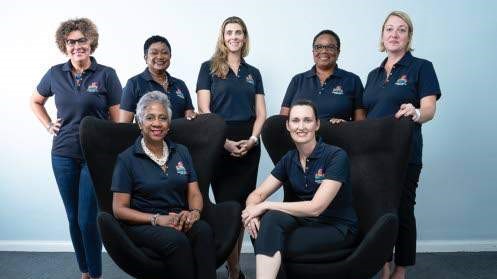 Stanley Motta's Set To Be First Listed Company In Jamaica's History With Female-Dominated Board
Stanley Motta Ltd, a company effectively owned and controlled by the Musson Group and Harbour Street Properties Ltd, is seeking to raise just over $4 billion Jamaican dollars via an initial public offering of some 758 million ordinary shares.
Encouraged by the uptick in Business Process Outsourcing demand for space, Stanley Motta is opening their ultra-modern 58 HWT Tech Park on Half-Way-Tree Road, Kingston to outside investors.
Operated by Stanley Motta, the Tech Park is the largest BPO facility in the English-Speaking Caribbean, boasting more than 230,000 square feet of office space for BPOs and other technology-based companies, along associated services like healthcare, food and beverage. But its main focus remains supporting BPOs.
Last year Stanley Motta Ltd announced it would invest more than US$30 million to develop 58 HWT, as the nation's only integrated tech campus, owing to its desire to support the growing BPO industry.
The initial public offering prospectus, now posted on the Jamaica Stock Exchange website, is offering investors an opportunity to invest in the business process outsourcing and technology park, and participate in any capital appreciation of the property and income from its triple-net, United States dollar denominated leases.
Of the 758 million ordinary shares, 70 per cent or 530 million shares is being offered to the general public.
The offer, which opens July 6 and closes on the 20th, is priced at JA$5.31 per ordinary share, with a six per cent cumulative preference share at JA$2.00 each.
Chairman of the company Melanie Subratie said the proceeds from the invitation will be payable to Stanley Motta, with selling shareholders intending to use the proceeds from the sale of their shares for their own purposes.
Of significant note is it's female-dominated board, which is expected to be the first female dominated board of a listed company in Jamaica's history. Board members include Chairman Melanie Subratie, Jennifer Scott, Sandra Glasgow, Minna Israel, Patricia Sutherland, Sharon Donaldson and Andrea Kinach.
"When Stanley Motta Ltd was conceived, it was extremely important to me that we have a particularly strong board of directors; one that could provide exceptional vision and direction to help chart the company's future trajectory. I therefore gathered together a group of people that I had long admired, all of whom were proven leaders and performers in their respective fields, and it so happens that they were all women.". Chairman Melanie Subratie
The Directors bring vast experience in accounting, law, finance, and real estate to the Board. Each Directors has previously led or served as a director of a listed company and/or public-sector entity.
NCB Capital Markets Ltd, a securities dealer, will act as broker on the invitation.
According to the Stanley Motta prospectus, most of 58 HWT's rental space is leased to tenants under triple net leases, denominated in US dollars and includes the fast-growing BPO segment. The building has the capacity to provide over 3,300 call centre seats.
To view Stanley Motta Limited – Main Market Prospectus click HERE