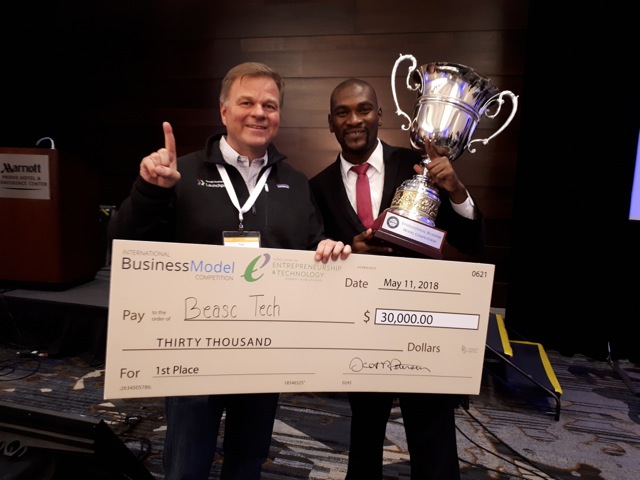 Jamaican Student Entrepreneurs Win Top Spots In Prestigious International Business Model Competition
Photo Caption: Paul Ahlstrom, Founder & CEO of Alta Ventures, USA, with Lancelot Riley, Founder & CEO, BEASC TECHNOLOGIES, the 2018 International Business Model Competition.
Two Jamaican student entrepreneur teams from Northern Caribbean University and the University of the West Indies have won the top two spots in the prestigious International Business Model Competition (IBMC) held in Provo Utah on May 10 – 11, 2018.
Beasc Technologies from the mid-island based Northern Caribbean University (NCU) was awarded the coveted prize of 2018 IBMC Winner and walked away with the 'traveling trophy' and a cash prize of US$30,000.
Eco-Structures, representing the University of the West Indies (UWI) was awarded second place and received cash prize of US$20,000.
Douglas Lindo, National Coach of the National Business Model Competition (NBMC), and who travelled with the teams to the competition, reported that it was a feat never before accomplished, first and second in the fifth year of entering this world-class event.
Five teams from Jamaica's National Business Model Competition competed against 38 other universities world-wide at the IBMC.
The NBMC is an initiative that is anchored and supported financially by the Development Bank of Jamaica and partners including IDB-MIF, PSOJ, PanJam Investment, Musson Foundation, Restaurants Associates (Burger King), Scotiabank Jamaica, Sagicor Group, GK Capital Management, PetroCaribe Development Fund and NCB Foundation.
Beasc Tech and Eco-Structure made their award winning presentation to a high level team of judges including Ash Maurya author of two bestselling books, "Running Lean" and "Scaling Lean", Aaron Eden, co-founder & CEO of Startup Tuscon and David Bland, Founder & CEO of Precoil.