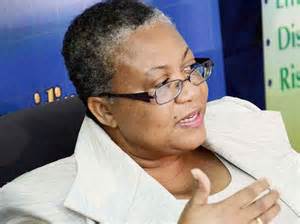 The Jamaica Stock Exchange Is A Medium For Business Expansion And Wealth Creation.
Mrs. Marlene Street Forrest, Managing Director of the Jamaica Stock Exchange is lauding and presenting the JMMB Group as a testament of what can be achieved by other companies, using the Exchange as a medium for business expansion and wealth creation.
JMMB she said, has used the power of the market and their record of accomplishments most effectively. Since inception, they have raised capital via IPO and have listed ordinary shares, restructured their company, made acquisition and have raised capital through issuance of preference shares. The market has provided them with a platform for transparency, valuation and increased visibility.
Commenting further Mrs. Street Forrest indicated that the opportunities are here right now for companies to take advantage of this efficient and effective platform.
She made the comments at an event held at the Jamaica Stock Exchange last week where the JMMB Group listed its Cumulative Redeemable and Preference shares on the US$ and JA$ markets of the Stock Exchange.
The Jamaica Stock Exchange she said, is seeing where investors, companies and the government are beginning to understand the importance of the Stock Market in creating wealth sector-by-sector, individual-by-individual and company by company. It is non-discriminatory, non-partisan and is fixed in its pursuit, that is, to create wealth for everyone.
The JSE she said facilitates the listing of different products, classes of shares, government or corporate bonds. This is complemented by their Depository and Trustee Services offerings.
JMMB has raised over JA$23 billion from the capital markets through its listings of 16 securities over the period. Currently, with 11 securities listed on the markets, JMMB has the record of having the most securities listed by any company.
A total of 100 Securities are Now Listed on the JSE Markets.BM