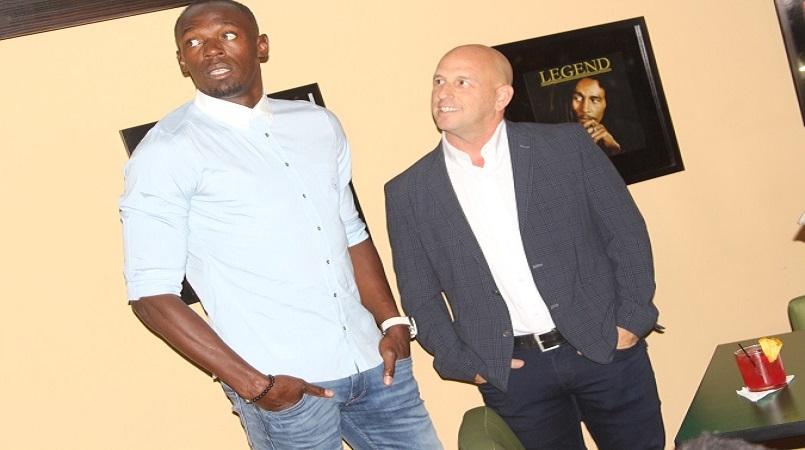 KLE Group Reporting 95% Fall In Total Comprehensive Profits For 2017
Photo caption: Usain Bolt, Brand Ambassador And Investor and Gary Matalon, Managing Director
While the Directors of KLE Group are reporting exceptional progress establishing a strong balance sheet, increasing profitability and yielding the rewards of additional revenue streams. Their published audited financial statement for the year ended December 31, 2017 is showing Total Comprehensive Profits falling 95 percent to $9 million from $162 million in 2016. This as the 2016 result was boosted by a one off gain from sale of shares in a subsidiary, amounting to $164 million.
The group also registered lower operating profits from operations, i.e. before finance costs, depreciation and taxation, of JA$10.26 million compared to the preceding year's profit of $171.76 million.
Total revenue for the 2017 financial year amounted to $215.43 million was up compared to $195.94 million in 2016, an increase of approximately 10%.
Revenue is directly related to sales from their flagship restaurant, Tracks and Records Marketplace, which has experienced exceptional growth in revenue over the last five years, according to the Directors report.
Total Assets decreased by JA$18.35 million as a result of the repayment of monies owed to KLE by T&R Systems Limited. Arising from this the Directors are indicating that the company is now reporting a positive working capital ratio as its current liabilities have fallen below its current assets.
In 2017 the company's working capital was a positive $7million compared to a negative $9 million in the prior year.
The KLE Group is reporting that shareholder's equity for the period increased by 7.35%, directly related to the earnings generated for the year.
To view K.L.E. Group Limited Audited Financial Statements for the Year Ended December 31, 2017 click HERE