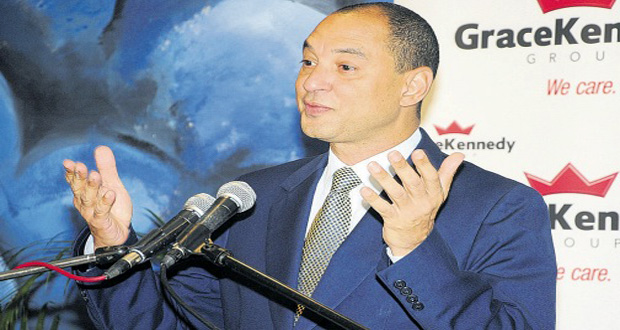 2017 Filled With Challenges And Opportunities As GraceKennedy Group Reaches Milestone Of JA$92 Billion In Revenue
Don Wehby, Group CEO for The GraceKennedy Group has described 2017 as one filled with challenges and opportunities, even as his team was focused and proactive in delivering on new initiatives, establishing new distribution channels, launching new products and executing financial inclusion strategies.
Their resilience and diversity allowed them to withstand the pressures, maximise opportunities and grow in both revenue and profit, he said.
This as their just released 2017 Audited Financials showed the Group reaching a milestone of JA$92.48 billion in revenue, supported by growth in both its Food and Financial segments.
Commenting further he reported that the year saw innovations and strong marketing efforts in both Food and Financial segments, as well as a major acquisition in the Distribution business.
However, two major hurricanes in the Caribbean, a temporary ban on corned beef from Brazil in Jamaica and other territories and suspensions of some remittance locations, had an adverse impact on the overall performance.
In spite of the challenges the Group delivered growth in revenue, recording Group revenues of JA$92.48 billion, up by 4.8% or $4.21 billion over the JA$88.27 billion recorded for 2016.
Other key financial highlights included a 5.2 percent increase in Net profit after tax of JA$4.77 billion, an increase of 7.5% in Shareholders' equity to $45.22 billion, and total assets of $129.99 billion, up from $126.48 billion.
The Group CEO also spoke about the performance of the Group's newest acquisition.
"Consumer Brands has now been successfully integrated into the GraceKennedy Group, and is proving to be a natural fit. We are also very pleased with the performance of Consumer Brands. Over the four months since the acquisition in September 2017, that business has contributed more than $877 million in revenue and $82 million in profit," Mr Wehby said.
On the other hand, Mr Wehby disclosed that the corned beef ban in March of 2017 led to a reduction in sales of corned beef of over $500 million. In spite of this, the Food Trading segment delivered growth in revenue and profit based on the strong performance of other key products and new product innovations.
GraceKennedy Ltd has benefited from tax credits under Jamaica's Urban Renewal (Tax Relief) Act (URA).
"Our investment in the new corporate headquarters of US$25 million or over J$3 billion has allowed us to recognised tax credits of $416 million in 2017. With additional credits to be recognised in 2018," said Frank James, Group Chief Financial Officer.
Frank James, Group Chief Financial Officer has disclosed that dividend payments to shareholders will be made in May, with shareholders receiving dividend of 40 cents per stock unit, an increase of 33% over the same 2016 period.
More click HERE