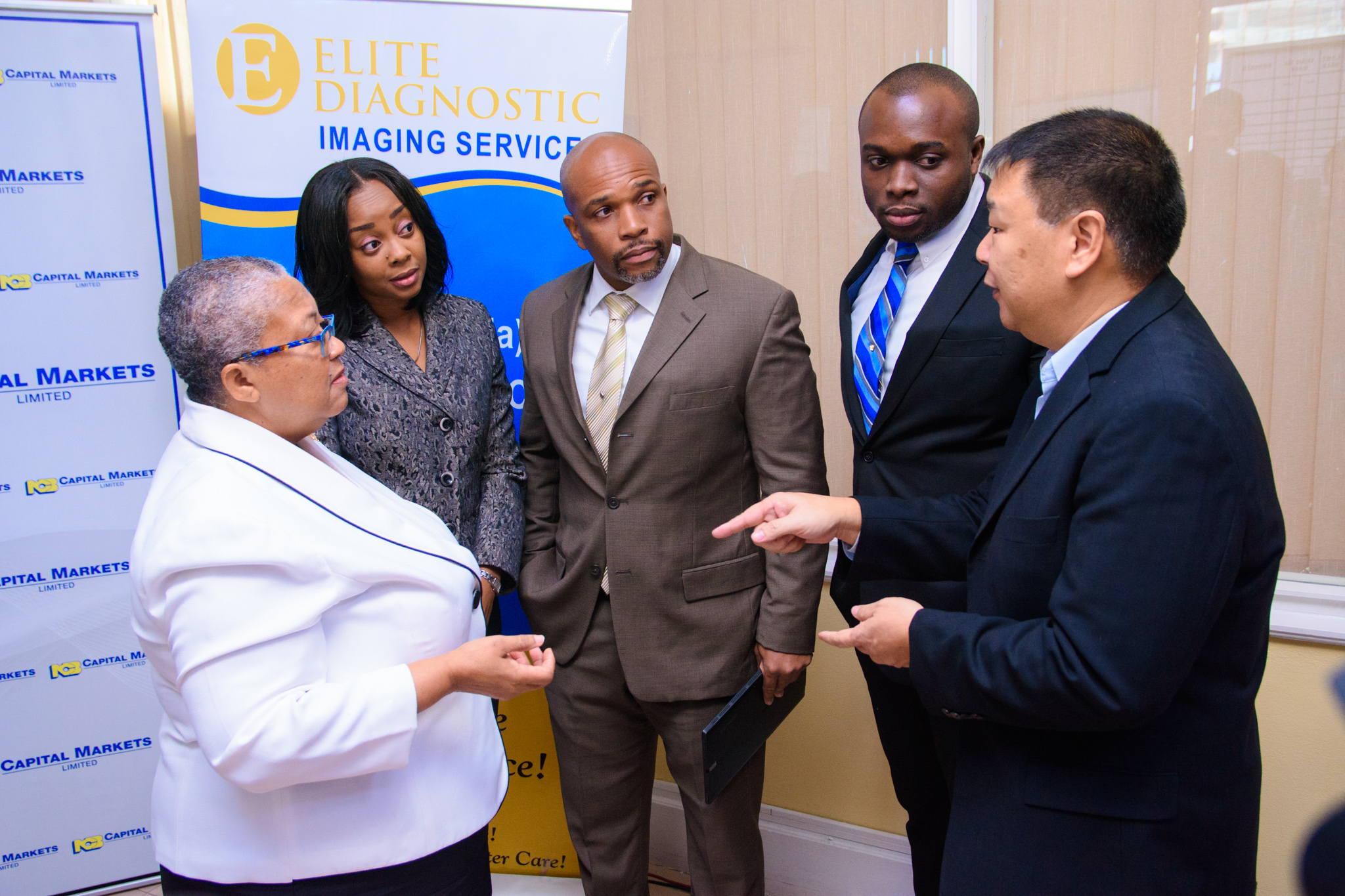 Elite Diagnostic's Jamaica Stock Exchange Listing Brings Value Of Junior Market To JA$121 Billion.
Photo Caption: Warren Chung, CEO at Elite Diagnostic Limited (right), in discussion with his team and Marlene Street Forrest, Managing Director, Jamaica Stock Exchange (left). The team of NCB Capital Markets and Sagicor Investments was co-broker and arranger for the medical diagnostic company's successful IPO and listing. Comprising the team (from second left) are: Mischa McLeod-Hines, Manager, Capital Markets, Sagicor Investments Limited; Herbert Hall, Assistant Vice President, Investment Banking, and Denton Dewar, Manager, Origination and Structuring at NCBCM.
Marlene Street Forrest, Managing Director, of the Jamaica Stock Exchange, is reporting that Elite Diagnostic Limited's listing on the Jamaica Stock Exchange now brings the market value of the Junior Market to more than JA$121 billion and puts Elite in an elite group of companies whose shares were also oversubscribed.
The five-year-old diagnostic imaging centre exceeded expectations with a 768% oversubscription of its Initial Public Offering (IPO), which raised $144 million when it opened and closed on February 5.
While 70.68 million ordinary shares were offered to the public, Elite listed some 353,400,000 ordinary shares on the Junior Market of the stock exchange. Its IPO raised $144 million.
Elite brings to the market 3,000 new shareholders, which far surpasses the minimum requirement of 25 to list on the Junior Market.
According to Marlene Street Forrest,Elite now takes the 35th space on the Junior Market, raising the number of securities to 39. Overall, the company is now 72nd on the list of companies on the entire exchange, bringing the total number of securities to 93.
To date capital raised by the 35 companies on the Junior Market accounts for $7.6 billion. Elite's listing additionally raises the market capitalisation of the Junior Market to $121.4 billion, indicating the success of the JSE Junior Market which has grown from $503 million when the first company listed in 2009.
"With more persons having access to equity capital, it means that more investors are investing in the market and can grow their portfolio. It is a matter of wealth creation. When they invest in companies that do well, then they will benefit also and thus invest in other areas of the economy," Street Forrest explained.BM