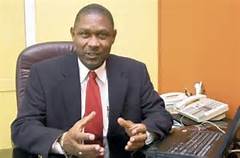 John Jackson Still Bullish On Elite Diagnostics
Sagicor Investments and NCB Capital Markets, who were jointly responsibly for the Elite Diagnostic IPO, seeking to raise $141 million, offering of 70.68 million shares, has announced that it has been oversubscribed, closing on February 5, 2018.
Shareholder notification for the allotment of shares, given the oversubscription, and the date of the company listing will be made in due course.

The initial public offer for the 71 million shares priced at $2 each, was put off twice, as the financial results for the first quarter of the current fiscal year to September were found to have errors that lead to an understating of expenses and over stating of profit, as well as errors in the amounts relating to fixed assets in the cash flow and balance sheet.
IC Insider.com who first brought the errors in the report to public attention had suggested that it be withdrawn, have the figures properly checked and audited before releasing it again to the public.
Publisher of IC insider.com and noted financial analyst John Jackson is however bullish on the stock, rating it as a buy and projecting earnings to just over 25 cents for the current year to June and 35 cents for the next fiscal year.
Elite Diagnostic's listing on the Junior Market of the Jamaica Stock Exchange will bring the total number of listed companies to 35.