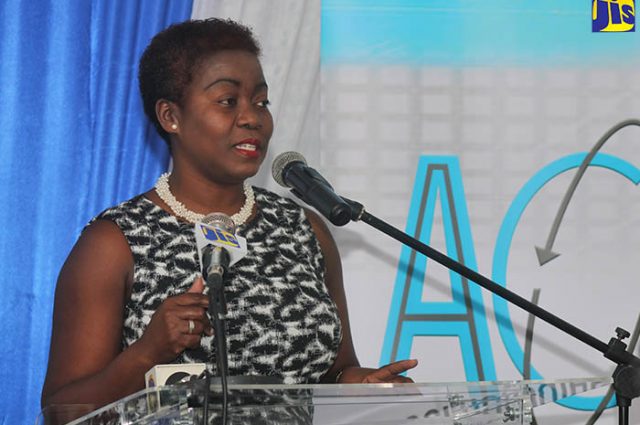 Jamaica To Host First Ever 'Outsourcing Symposium' In April 2018
President of the Business Process Industry Association of Jamaica (BPIAJ), Gloria Henry, has announced that the country's first ever 'Outsourcing Symposium' will be held in April.
Speaking at the ribbon-cutting ceremony for the Advanced Call Centre Technologies' (ACT) fourth business process outsourcing (BPO) site at the Barnett Tech Park in Montego Bay on January 23, Ms. Henry said the event, to be held at the Montego Bay Convention Centre, will be one of the highlight events during National Outsourcing Week (NOW) 2018.
"The week-long combination of events and initiatives will promote and increase awareness of the many entrepreneurship, employment and partnership opportunities available in the BPO industry in Jamaica," Ms. Henry noted.
"The series of initiatives will seek to engage business and political leaders in discussions about the importance of the outsourcing industry for our country; and to illuminate areas of competitiveness and viability of the sector," she added.
Ms. Henry said the symposium will bring together a diverse group of global experts, including technocrats, local entrepreneurs, Government officials, BPO leaders and buyers, who will bring best practices and ideas to the sector, which is fast gaining on tourism as the largest employer of persons in western Jamaica.
She noted that Jamaica's outsourcing industry has seen significant growth over the past decade, currently hosting some 53 entities while employing over 26,000 persons.
"Our industry has expanded outside of Montego Bay to other parts of the island, including Ocho Rios, Mandeville, Portmore, and Kingston and St. Andrew," Ms. Henry pointed out.
Ms. Henry said that in 2017, the global outsourcing market amounted to $88.9 billion, which is "set to hold steady in 2018", particularly for business services, energy and healthcare.
"With market dynamics constantly changing and new entrants making inroads daily, the most vigilant and successful outsourcing destinations are continually striving to outdo their competitors by differentiating themselves," she added.
For his part, ACT Site Director, Rhone Charlton, said his organisation is "expanding its footprint in Montego Bay with 1,200 staff members in 12 thriving departments".
"This is indeed an exciting time for our company. Our new building will add more production seats to our ACT footprint in Jamaica, which is more than double our previous capacity," he noted.
Mr. Charlton said his company is projecting to add a further 600 to 800 employees in 2018.
Source: http://jis.gov.jm/outsourcing-symposium-set-april-mobay/