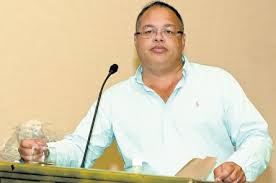 3 New Starbucks Locations To Generate Substantial Revenues For Express Catering -Dear
The Ian Dear led Express Catering Limited has released its Q2 2018 Interim Financial Statements reporting revenues of US$3.06 million for the quarter, a more than 20% improvement for the period.
Net profit for the quarter came in at US$544,623, compared to US$37,093 for the same quarter in the prior year.
Revenue for the six months to November 2017 was US$6.88million compared to US$6.02 million for the prior year six months. This generated net profits of US$1.38 million compared to US$389,722 for the same period in the prior year.
Commenting on the results in his report to shareholders Dear indicated that the second quarter is traditionally the lowest earning quarter for the fiscal year and that based on this trajectory he is very encouraged by the earnings prospects for the full year.
Margaritaville Caribbean Limited, also led by Ian Dear, had acquired in 2016 the minority stake in Express Catering Limited, which controls the bulk of food services at Jamaica's largest airport, Sangster International. Margaritaville already held 75 per cent of Express Catering at the time of the minority acquisition.
Express Catering now listed on the Junior Market of the Jamaica Stock Exchange became the exclusive provider of food and beverage products in the post-security lounge of the Sangster International Airport, boasting a diverse group of proprietary brands and international franchises including Quiznos Subs and Salads, Aunt Annie's Pretzels, Nathans Famous Hot Dogs, Cinnabon, Moe's South Western Grill, Wendy's, Dominos and Dairy Queen.
Shareholders in the company earned 0.084 US cents for the half year compared to 0.024 cents for the same period in the prior year.
Looking forward Ian Dear indicated that the addition of the Starbucks Coffee concepts to the offering in the Airport is on track for completion during the third quarter. Work is in progress on this initiative and will see 3 locations added within the airport from which the company expects to generate substantial revenues.BM
To view more details click HERE