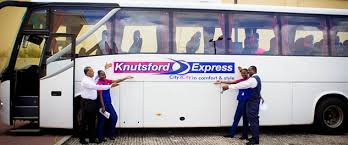 Knutsford Express Will Expose Locals And Tourists To Jamaica's Lesser Known Rural Attractions-Bartlett
Jamaica's Tourism Minister Edmund Bartlett, says the expansion of service by ground transportation provider, Knutsford Express will serve to expose locals and tourists to Jamaica's lesser known rural attractions.
Mr. Bartlett, who was speaking at the official opening of the company's Sangster International Airport depot in Montego Bay on Tuesday, said the ease of access to Jamaica's interior regions anticipated from the 11-year-old company's endeavour would open up new areas and destinations, thereby enabling residents to partake of the potential benefits to be derived.
The Minster said this would encourage broadening of the tourism ownership structure by affording persons in remote rural areas the same access to visitors as is enjoyed by their counterparts in more popular and well-known locations.
Mr. Bartlett noted that the forging of stronger alliances with strategic partners like Knutsford Express is "critical to driving growth within the industry" and consistent with the five pillars of tourism growth. Indicating further that he saw this partnership as an opportunity to create positive travel experiences for visitors to the island and expose them to the rich culture and beautiful resort areas as well as to showcase the warm Jamaican hospitality, for which the island is known for the world over. BM