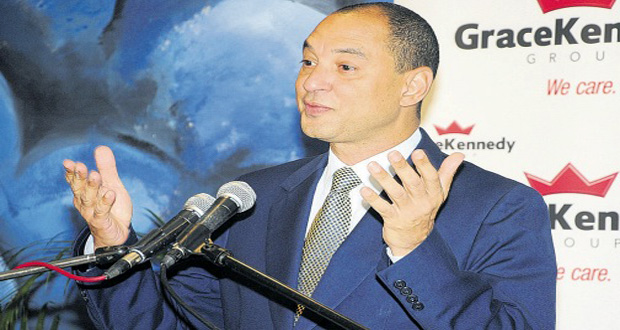 Businessuite #1 Jamaica Ranked Public Company for 2017 – Main Market – GraceKennedy Limited
| | | | | | | | |
| --- | --- | --- | --- | --- | --- | --- | --- |
| Nat Rank | Nat Rank | Carib Rank | | LC$000 | US$000 | LC$000 | US$000 |
| 2017 | 2016 | 2017 | Company | 2016/17 | 2016/17 | 2015/16 | 2015/16 |
| 1 | 1 | 4 | GraceKennedy Limited | $88,267,589 | $687,226 | $79,742,230 | $663,192 |
Stock Exchange: Jamaica Stock Exchange Main Market
Company: GraceKennedy Limited
2017 Rank: #1
2016 Rank: #1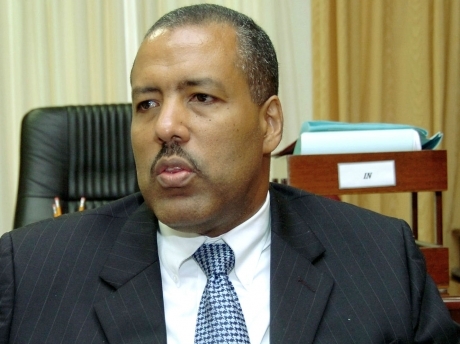 Chairman: Gordon V. Shirley, OJ
Group Chief Executive Officer: Donald G. Wehby
Address: 73 Harbour Street, Kingston, Jamaica
Telephone: 922-3440
Facsimile: 922-3664
Websites: www.gracekennedy.com www.gracefoods.com
Company Profile:
GraceKennedy Limited is a publicly listed company on the Stock Exchanges of Jamaica and the Republic of Trinidad & Tobago. The company was founded on February 14, 1922, and is the parent company of a Group of subsidiaries operating mainly in the food and financial services industries. The Group's operations are structured into two Divisions:
FOOD TRADING This comprises the business of food manufacturing through our own factories as well as through external suppliers, the distribution of Grace and Grace owned brands in Jamaica and internationally, and the operation of retail outlets through our Hi-Lo Supermarket chain in Jamaica. The Group also manufactures and distributes third-party brands in Jamaica and internationally. GK Foods operates primarily in Jamaica, the Caribbean, Central America, North America, Africa, the United Kingdom (UK), and other European countries.
FINANCIAL SERVICES This comprises our commercial banking, general insurance, insurance brokerage, investment banking, remittance, cambio and payment services businesses. Our financial services companies presently operate within the English-speaking Caribbean
2016 was a good year for the GraceKennedy Group as we achieved several of the key strategic and profitability milestones that we had set. These goals were achieved in a rapidly changing environment that presented both opportunities and challenges. Our operational strategy for 2016 was primarily focused on the four broad themes of: optimizing and pursuing growth opportunities for our international foods business, strengthening our foods and financial services position in Jamaica, improving the overall operational efficiency of the Group, and the development of a comprehensive Global Talent Mobility Programme, cornerstones of our 2020 vision of international expansion. This strategic focus fully supports the vision of delivering long-term consumer and shareholder value.
FINANCIAL HIGHLIGHTS INCLUDE:
• Group revenue for 2016 was J$88.27 billion, representing an increase of 10.7% or J$8.53 billion over 2015 (J$79.74 billion).
• Net profit attributable to the shareholders of the Company was J$4.00 billion for 2016 compared with J$2.76 billion for 2015.
• Earnings per share was J$4.04 in 2016 compared with J$2.78 in 2015, a 45.3% increase.
• As reported previously, a non-recurring gain was realised on the dissolution of some non-operating subsidiaries. Without this gain, net profit attributable to the stockholders of the Company would have increased by 29.7% or J$819.85 million.
• Shareholders' equity increased by 10.6% or J$4.01 billion moving from J$38.05 billion in 2015 to J$42.06 billion in 2016. § Total assets grew by 16.4% or J$17.79 billion from J$108.69 billion in 2015 to J$126.48 billion in 2016.
• Dividends totaling J$1.01 billion or J$1.02 per share were paid in 2016 compared with J$820.03 million or J$0.83 per share in 2015, an increase of 22.9%. § At the end of 2016, the GraceKennedy stock price closed at J$40.29. When adjusted for the 3-for-1 stock split which was effective August 11, 2016, this represented a 48.8% increase over prior year.
The Foods segment made great strides in meeting the changing needs of our markets worldwide as customers increased their preference for healthier, more convenient and increased variety of food choices.
Our international foods companies showed improved performance over prior year. GraceKennedy Foods (USA) LLC, saw growth in both the Grace and the La Fe brands. We continue to invest in these brands and our infrastructure to improve the efficiency of our operations. During 2016, we recruited key expertise to drive the future growth and optimization of the business. GraceKennedy (Ontario) Inc. (GKO) was appointed "Category Advisor – Caribbean and Ethnic" by Walmart in 2016. This has provided our Canadian business with the opportunity to strengthen and expand its presence in Walmart, which has over 400 stores in Canada.
Our food operations in the United Kingdom (UK) and Europe also performed well despite the uncertainty surrounding Brexit, and the resulting depreciation of the pound sterling. The Aloe drink continues to gain market share in the UK beverage market and not only competes in the Ethnic Drink Category but has successfully expanded into the mainstream beverage category where it is positioned among the Top 10 UK juice brands. In recognition of Grace Foods UK Limited's (GFUK) contribution to commerce, the Company received three important awards from the Hertfordshire Chamber of Commerce: 'Overall Business of the Year', 'Medium to Large Business of the Year' and awards for 'Excellence in People Development'. Sales to the European market continue to show strong growth, and we expect to expand our presence and pursue opportunities in this region.
Our foods business in Jamaica showed strong growth in revenue. Our strategy to cater to multiple segments of the market has resulted in our domestic foods business being resilient and responsive to competitive forces and the changing taste of our customers. Hi-Lo Food Stores, our supermarket chain in Jamaica, delivered strong performance. Our most recently opened location in Liguanea, Kingston and the refurbished Fairview location in Montego Bay, have enhanced the experience of grocery shopping in Jamaica with world-class layouts and wider variety of products and services.
Our manufacturing operations had a remarkable year. Our brands, This Is Really Great Yogurt, and Lishous, our juice drink that was introduced into the Jamaican market in 2016, recorded strong growth, while our Tastee Cheese and Soups segment grew exports to the United States. We continue to invest in upgrading facilities within our factories while continually exploring low cost sourcing initiatives for key products to remain competitive. Our financial services companies continue to meet the high standards of service and innovation that our customers have grown to expect from us. We made investments in technology,
and in our people, in order to focus on delivering a seamless customer service experience.
In our Banking and Investments segment, First Global Bank (FGB) reported strong growth in revenue over 2015 which was primarily driven by 13.5% growth in the loan portfolio. Profitability, however, declined over prior year primarily due to costs associated with network expansion and investments in technology. Loan provisions were also higher than prior year, however the Bank continued to effectively manage delinquencies, and has seen a decline in the ratio of impaired loans to total loan portfolio. FGB continued to pursue its strategy of convenience enabled by technology with the opening of a new high-tech branch in Ocho Rios and the relocation and upgrade of the Liguanea branch. GK Capital Management Limited (GKCM) solidified its position in the investment advisory space, having completed a number of transactions during the year valued at over $3 billion.
The Insurance segment's revenue growth was driven primarily by our underwriter in Jamaica, GK General Insurance Company Limited (GKGIC). GKGIC also continues to innovate through its micro-insurance portfolio resulting in the revenue generated from this portfolio doubling year-over year. The growth in profitability is however due to the strong performance of our insurance broker in Jamaica, Allied Insurance Brokers Limited, which also recorded strong revenue growth over prior year. In line with our strategic plan, we continued our focus on regional expansion and are pleased to report that our underwriter in St. Lucia, GK Insurance (Eastern Caribbean) Limited, is now licensed to operate in three additional territories: St Vincent & The Grenadines, Antigua and Barbuda and Grenada.
GraceKennedy Money Services Limited (GKMS) remained the dominant player in the English speaking Caribbean remittance market. The business continues to be strategically focused on protecting its market-leader position while driving growth and enhancing the regional remittance business through digitization. In February 2016, GKMS expanded its operations into the Turks and Caicos market through the establishment of a new subsidiary, GraceKennedy Money Services (Turks & Caicos) Limited; this represents the 11th market in which the Company operates.
In December 2016, the Bank of Jamaica approved the GK Money Services' mobile wallet application, GK MPAY, in Jamaica. GK MPAY was launched in the Jamaican market in February 2017, providing the convenience for users to make payments and other money services transactions on their mobile phones.
Extracted from GraceKennedy Limited (GK) Annual Report 2016
To view full report click HERE