Businessuite #1 Jamaica Ranked Public Company for 2017 – Junior Market – Lasco Distributors Limited
| | | | | | | | |
| --- | --- | --- | --- | --- | --- | --- | --- |
| Rank | Rank | Carib Rank | | LC$000 | US$000 | LC$000 | US$000 |
| 2017 | 2016 | 2017 | Company | 2016/17 | 2016/17 | 2015/16 | 2015/16 |
| 1 | 1 | 23 | Lasco Distributors Limited | $15,803,329 | $123,040 | $14,549,098 | $121,000 |
Stock Exchange: Jamaica Stock Exchange Junior Market
Company: Lasco Distributors Limited
2017 Rank: #1
2016 Rank: #1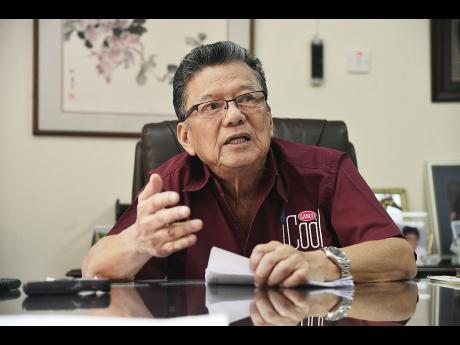 Executive Chairman: Hon. Lascelles Chin, O.J., C.D.
Deputy Executive Chairman / Managing Director: Mr. Peter M. Chin
Address: 27 Red Hills Road Kingston 10 Jamaica, W.I.
Tel: (876) 749-5272
Fax: (876) 749-2966
Website: www.lascojamaica.com
Company Profile:
LASCO Distributors Limited is a leading distribution company in Jamaica. The business was established over 27 years ago by the Honourable Lascelles Chin. In a relatively short time, the company rapidly increased its market presence by offering quality products to market at competitive prices. This market positioning and the focus on satisfying consumer needs, has led LASCO to become market leader in several major categories in the industry. The company is well known for several innovations and product introductions, namely our flagship product LASCO Food Drink and LaSoy a range of soy beverage products, Curves Sanitary Napkins, the iCool range of water, flavoured water and juice drinks.
The company was listed on the Jamaica Stock Exchange in October 2010. The company comprises of two divisions – the Consumer Division and the Pharmaceutical Division. The segmentation is based on product specialization which allows for greater focus to meet our customers' needs.
The company distributes one of the widest range of fast moving consumer goods under its own LASCO label and other sub brands such as Curves and iCool. From the Consumer Division, the major segments are food, beverage, personal care, baby care, adult incontinence and home care products. The supply network also includes the distribution of ethical and over the counter (OTC) pharmaceutical products, animal health and equipment for major international brands, as well as its own private brand of generics LASMED, distributed by the Pharmaceutical Division.
For the financial year ending 31st March, 2017, LASCO Distributors Limited grew revenues by $1.25 billion to $15.8 billion, a growth of 8.6% over prior year. Gross profit for the year grew to $2.9 billion, or 10% more than the prior year. Net profit was $609.7M, a reduction of 14.9% compared to the previous year.
While the topline grew positively, the year's profit performance was affected by a number of one-off expenses. They included new product introductions, logistic costs associated with our Whitemarl expansion and professional fees relating to the Pfizer case.
To date, we have spent $725 million in upgrading our warehouse at Whitemarl. The new facility will enable greater efficiencies in logistics and energy usage. During the year, we have invested over $100m in upgrading our core business software and implementing our business intelligence platform. The core software upgrade will be completed in the coming year, and will seamlessly and efficiently integrate the front and back office operations. All of these investments form the foundation needed to drive future sustainable growth.
The strategic focus continues to be on growth in local and overseas markets, building brand equity, product innovation and strengthening the operations to provide the best service throughout our distribution network. This will be achieved through the deployment of technology, processes improvements and empowerment of our people.
Extracted from Lasco Distributors Limited 2017 Annual Report
To view full report click HERE