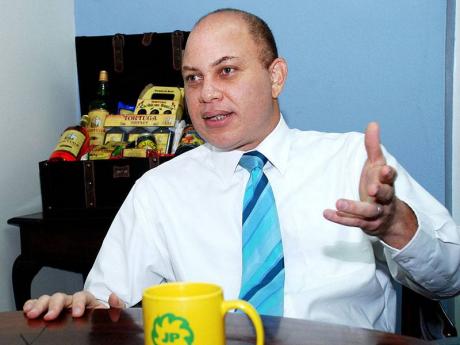 Businessuite 2017 Top JAMAICA CEO Main Market – Jeffrey McG. Hall Group Managing Director Jamaica Producers Group
Jeffrey McG. Hall, BA, MPP, JD was appointed Group Managing Director of Jamaica Producers Group in 2007 after joining the Board in 2004 and the Group in 2002. He serves on the Board's Executive Committee. Mr. Hall is Chairman of Kingston Wharves Limited, Scotia Group Jamaica Limited, the Bank of Nova Scotia Jamaica Limited and Scotia Investments Jamaica Limited, and is a director of Blue Power Group Limited, the National Housing Trust and the Shipping Association of Jamaica Property Limited. He previously served as a director of the Bank of Jamaica and the Jamaica Stock Exchange. Mr. Hall received his Bachelor of Arts degree (with honours) in Economics from Washington University, his Masters degree in Public Policy from Harvard University and his Juris Doctorate (with honours) from Harvard Law School. He has practised law as a member of the New York Bar.
The Group and Strategy
The Group has been consistent in its strategy to deliver shareholder returns through:
i. Pursuing business prospects in all aspects of specialty food and drink, ranging from agricultural production to food processing, marketing, distribution and specialty retail.
ii. Participating in select opportunities to develop and provide world-class logistics services and infrastructure for the Caribbean.
Our strategy is predicated on the achievement of three key objectives. Firstly, all our businesses should be leaders in their market segment. Secondly, we should always be open to a wide range of strategic opportunities for growth and for the realisation of shareholder returns. Thirdly, our businesses must always operate in a practical context that emphasizes strong financial returns and integrity in our business dealings.
2016 represented a milestone year for the Group as we realised significant shareholder gains in both components of our strategy. These gains represent the outcome of a series of initiatives that were executed over multiple years at both strategic and operational levels in the business.
At the same time, the underlying businesses made further progress in a variety of commercial and operational initiatives that resulted in JP, at the end of the financial
year, having a better invested capital base, a stronger commercial outlook and a more robust organisational structure.
Our financial and operating reporting is aligned to our high level strategy, with our segmental reporting split into the major lines of business in which we are engaged, specifically (a) JP Food & Drink – an international diversified specialty foods business, and (b) JP Logistics & Infrastructure – a portfolio of international businesses centred around logistics and infrastructure for the Caribbean.
During 2016, JP generated total revenues of $12.1 billion, an increase of 39% relative to 2015. A substantial part of this revenue increase arose from the move to consolidate KW from the mid-year, with underlying like-for-like business revenues growing by 9%.
A significant majority of the Group's revenues are denominated in currencies other than the Jamaican dollar, particularly the euro, the US dollar and the British pound sterling. When making adjustments for exchange differences arising on translation of subsidiaries' financial statements the Group experienced a 6% underlying revenue growth in the predominantly hard-currencies in which our subsidiaries do business.
The experience of the Group has been marked by a relatively consistent long-term depreciation of the Jamaican dollar relative to major reserve currencies and, as such, the Group has adopted a long-held strategy of ensuring that a core part of our earnings is generated in those hard currencies, either through direct ownership of overseas subsidiaries or through increasing the exports of our Jamaican produced specialty foods and logistics services into hard currency markets. During 2016 overseas revenues from both these sources continued to grow.
2016 saw gross margins improve from 23% to 29%. Again, this was driven partly by the consolidation of KW, which operates in an industry with structurally higher gross margins than those normally seen in the food and drink industry. The margins of the Food & Drink division were affected by several restructuring and commercial start-up costs that constrained earnings in 2016.
The growth in revenues in our Food & Drink division was driven in part by an expansion of our marketing and distribution budgets both in Europe and the Caribbean. We continue to focus on redirecting expenditure from general administrative costs to more commercially driven marketing initiatives. As a result, our like-for-like businesses (i.e. excluding KW as a subsidiary) saw administrative costs remain flat year on year, whilst our marketing and distribution costs grew above inflation.
Operating profits grew largely from the inclusion of KW, however, this was offset in part by a reduction in earnings from associates. Following the change to recognise KW as a subsidiary and the sale of MBCF, earnings from associates will be lower going forward, with the Group's 30% investment in Shipping Association of Jamaica Property Limited ("SAJPL") being the primary contributor to associate earnings.
Extracted from Jamaica Producers Group Limited 2017 Annual Report
To view full report click HERE