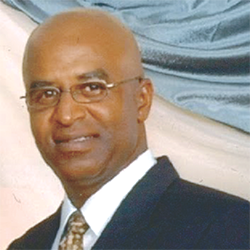 Businessuite 2017 #1 CEO Trinidad and Tobago – Terrance Clarke General Manager National Enterprises Limited
| | | | | | | | | | | |
| --- | --- | --- | --- | --- | --- | --- | --- | --- | --- | --- |
| Nat Rank | Nat Rank | Carib Rank | | | US$000 | | US$000 | | | % |
| 2017 | 2016 | 2017 | Chief Executive Officer | Company | 2016/17 | | 2015/16 | | | Change |
| 1 | NR | 9 | Terrence Clarke | National Enterprises Limited | $29,880 | | $17,032 | | | 75.44% |
Terrance Clarke has been the General Manager of National Enterprises Limited since September 2016
Clarke has experience in the field of private equity, portfolio management, investment banking and general management. He has been portfolio manager for a number of funds, as well as of structured investment banking facilities for sovereign and state-owned companies throughout the region. He has also overseen energy sector clients for a large corporate bank.
His previous experience includes service at the T&T Securities and Exchange Commission, AIC Securities Limited, RBTT Bank Limited and Scotiabank T&T Limited.
Clarke's academic qualifications include a BSc and MSc Economics from the University of the West Indies and an MBA (Finance) from York University, Canada. He is the author of several textbooks on Caribbean capital markets
National Enterprises Limited
National Enterprises Limited (NEL) is an investment holding company incorporated on August 27 1999 by the Government of the Republic of Trinidad and Tobago. NEL was formed to consolidate the Government's shareholding in selected State Enterprises and facilitate public offerings on the Trinidad and Tobago Stock Exchange.
NEL has invested in industries which drive the economy of Trinidad and Tobago: natural gas and energy-based manufacturing, telecommunications, power generation, and the marketing and manufacturing of basic foods.
NEL holds shares in the following companies: • National Flour Mills Company Limited (NFM); • NGC NGL Company Limited (NGC NGL); • NGC Trinidad and Tobago LNG Limited (NGC LNG); • Telecommunications Services of Trinidad and Tobago Limited (TSTT); • Trinidad Nitrogen Company Limited (Tringen); • NEL Power Holdings Limited (NPHL); and • Pan West Engineers and Constructors, LLC (Pan West).
Together, these companies employ a significant portion of the country's workforce and act as the vessel for local innovation and expertise development. Through NEL, individual and corporate investors can share in the financial stability and sustainability of these enterprises. Today over 6,000 citizens, who enjoy steady and consistent dividends and benefits from capital appreciation, own 100 million of the 600 million issued shares in NEL.
Financial Performance
The company's operating profits increased from $28.4 million in 2016 to $53.6 million in 2017. The share of profit of equity accounted investments, which include shareholdings in Tringen, NGC NGL, Telecommunication Services Trinidad and Tobago Limited (TSTT), National Flour Mills Limited (NFM) and Pan West, increased from $65.4 million in 2016 to $182.8 million in 2017 due in large part to the reversal of TSTT's results from the previous year.
In addition, income from short-term investments as well as other income, increased from $32.9 million in 2016 to $37.8 million, despite the relatively low interest rate environment for institutional investors.
The result of these increases was net profit of $202.1 million, an almost 100% increase from the previous year's figure of $109.6 million. The net profit for the year means that earnings per share doubled to $0.30 from the $0.15 in 2016.
While the share price of the company on the stock exchange had fallen in the previous year due to challenging external conditions, the improved performance of the company was reflected in the higher share price that the company has been enjoying in 2017.
Extracted from NATIONAL ENTERPRISES LIMITED ANNUAL REPORT 2017
To view full report click HERE