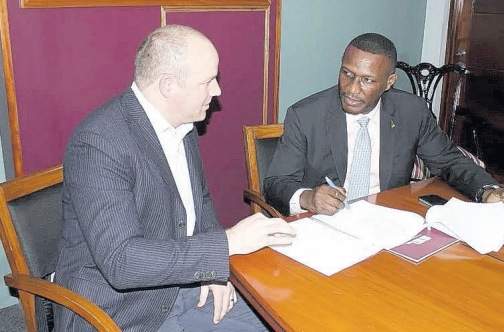 FosRich Company Limited Looking To Raise JA$200 Million Via An Initial Public Offering
FosRich's Managing Director Cecil Foster (right) signs off on IPO prospectus documents earlier in November with SSL's CEO Mark Croskery.
FosRich Company Limited is looking to raise at least JA$200 million via an Initial Public Offering, inviting the public to apply for up to 100.4 million shares @ $2.00 per Share in the capital of the Company.
The Company, which is a distributor of lighting, electrical and solar energy products, was established in 1993 with 3 employees, by Cecil Foster and his wife Marion Foster.
According to information published in the just released prospectus, FosRich Company has grown from a micro enterprise, surviving the financial meltdown, growing into one of the major importers and distributors of electrical products in Jamaica, serving all sectors.
The Company is particularly proud to have partnered with large global names seeking local distribution such as Philips Lighting, Victron Energy, Siemens, NEXANS and General Electric (GE).
The Invitation will open at 9:00 a.m. on 4 December 2017 and will close at 4:00 p.m. on the 11 December 2017.
It is the intention of the company Directors to apply to list the Shares on the Junior Market of the JSE, if the IPO is successful. BM