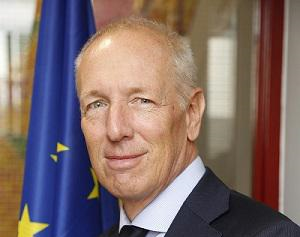 T&T Can Earn Much-Needed Foreign Exchange Selling More Natural Gas To Europe – Biesebroek
The head of the European Union Delegation to Port of Spain, Ambassador Arend Aad Biesebroek, is recommending that the Trinidad & Tobago Government and the private sector accelerate renewable energy usage, to help mitigate the effects of climate change, while earning much-needed foreign exchange selling more natural gas to Europe.
Speaking in Port of Spain Trinidad this week, Ambassador Biesebroek indicated that in the past financial envelopes for Trinidad and Tobago were rather generous and that in 2013, the financial envelope that was made available to Trinidad and Tobago was only one-third of what it received in the previous years.
In the past, special arrangements were also available but now, T&T, like many other middle-income and high-income countries have had their envelopes, grant and loan money cut.
However, the EU ambassador said there are still low-interest loans the private sector can access for projects in renewable energy and that the EU has financing programmes for agri-business as well as grants and loans that form part of the EU programme Horizon 2020 that T&T businesses should look into. BM