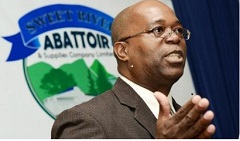 Sweet River Abattoir & Supplies Finally Makes A Profit – Gifford
The 2016-2017 financial year had its challenges and many lessons were learnt, according to Henry Graham Chairman of Sweet River Abattoir & Supplies Company Limited, chief among them was the loyalty of pig farmers, markets and other stakeholders. Describing the year as exceptional when compared to the past two (2) years, Graham reported that the company recorded its highest sales, improving tremendously on meeting targets in other areas. This improved performance he said has been in part achieved through the employment of a Plant/Operations Manager who played a major role in the company's progress.The offering of slaughter service has also shown tremendous gains and continues to expand, with current records showing that more than 25% of their slaughter is from this service.
For his part Managing Director Valdence Gifford reported that for the first time in three (3) years they have made a small profit of JA$1.4M compared to a loss of $5.5 million during the 2015-2016 period.
The year 2016-2017, saw them recording their highest sales on record of $345 million compared to $215 million during the 2015-2016 period.
This was achieved despite the fact that pork prices were lower than the two (2) previous years. This improved performance Gifford said, was achieved through the combined results of the opening of the new plant and the increase in pig production.
Sweet River Abattoir for the first time in three (3) years since being listed on the stock market has seen a positive return on earnings per share of 0.02%. The stock closed firm at $3.53 with no units traded.
To view full 2017 Annual Report click HERE