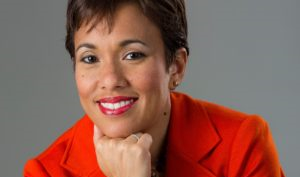 Scotia Group Has The Right Strategy To Ensure Delivery Of Solid Returns And Increased Long Term Value For Stakeholders – Sharp
As she hands over the leadership reins to David Noel, outgoing Group Chief Executive Officer of Scotia Group Jamaica Jackie Sharp, has indicated that she was confident that Scotia Group has the right strategy to ensure delivery of solid returns and increased long term value for stakeholders.
Mrs. Sharp reported that her final quarter showed strong financial results with net income and revenue growth of 7% year over year, as she continued to execute on strategic priorities to grow core businesses while creating a more efficient infrastructure for future growth.
Addressing shareholders in her report card for the nine months ended July 31, 2017, she pointed to net income of JA$8.99 billion, representing an increase of $615 million or 7%, compared to the period ended July 31, 2016.
Net income for the third quarter was down at JA$3.3 billion, compared to $3.5 billion for the previous quarter.
Return on average equity was 12.48%, compared to 12.47% for the period ended July 31, 2016.
The Board of Directors have approved an interim dividend of 45 cents per stock unit payable on October 25, 2017 to stockholders on record as at October 5, 2017. BM
To view  SCOTIA GROUP JAMAICA REPORTS THIRD QUARTER OF FISCAL 2017 RESULTS click HERE