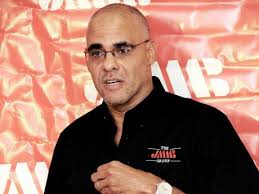 Trinidad And Tobago Needs To Learn From The Jamaican Experience And Make The Hard Decisions Needed For Economic Transformation – Duncan
Wednesday, September 13th, 2017, Port of Spain, Trinidad… JMMB Group CEO and Co Chairman of Jamaica's Economic Program Oversight Committee (EPOC), Mr Keith P. Duncan urged Trinidad and Tobago to learn from the Jamaican experience and make the hard decisions needed for economic transformation.
Speaking at an arm chair discussion hosted by JMMB Group, in collaboration with The Trinidad and Tobago Chamber of Industry and Commerce, Mr Duncan called on the business community, and labour to sit at the table with the Government of Trinidad and Tobago to provide sound solutions that will positively affect economic change.
The event held at The Hyatt Regency Trinidad on Friday, September 8th, 2017 was entitled "A Look at Economic Development in Trinidad and Tobago and the Region" and brought together financial partners, thought leaders and members of the business community to share perspectives on the topic of economic transformation. The conversation offered insights and opportunities from the Jamaican experience and EPOC and an overview of the work of the Economic Development Advisory Board (EDAB).
Mr Duncan provided a detailed comparative analysis of the past and current Jamaican economic situation, and shared the decisions and challenges Jamaica encountered on its road to economic recovery. He credits Jamaica's macro-economic growth to, among other things, prudent fiscal management, defined targets, supportive legislation, public sector transformation and liberalised foreign exchange rates.
He warned of the risks of a no diversified economy and noted that Trinidad and Tobago could achieve economic transformation by:
1. Establishing non-partisan oversight committees,
2. Making definitive decisions around foreign exchange policy and strategies,
3. Creating a more business friendly environment
4. Creating a medium-term Macro Economic Framework/Plan
5. Diversifying the economy, leveraging the Heritage Stabilization Fund
6. Making Strategic Investments to build out a diversified economy
Mr Duncan concluded his presentation with a strong push for an inclusive economic reform plan that transcends political parties and Governments.
The event also included a robust panel discussion moderated by EDAB Member, Advisor to the Principal of the University of the West Indies, St. Augustine and Director of JMMB Investments Dr Marlene Attzs. Dr Attzs was supported by Mr Duncan, EDAB Chairman, Dr Terrence Farrell and President of the Trinidad and Tobago Chamber of Industry and Commerce Mr Ronald Hinds.