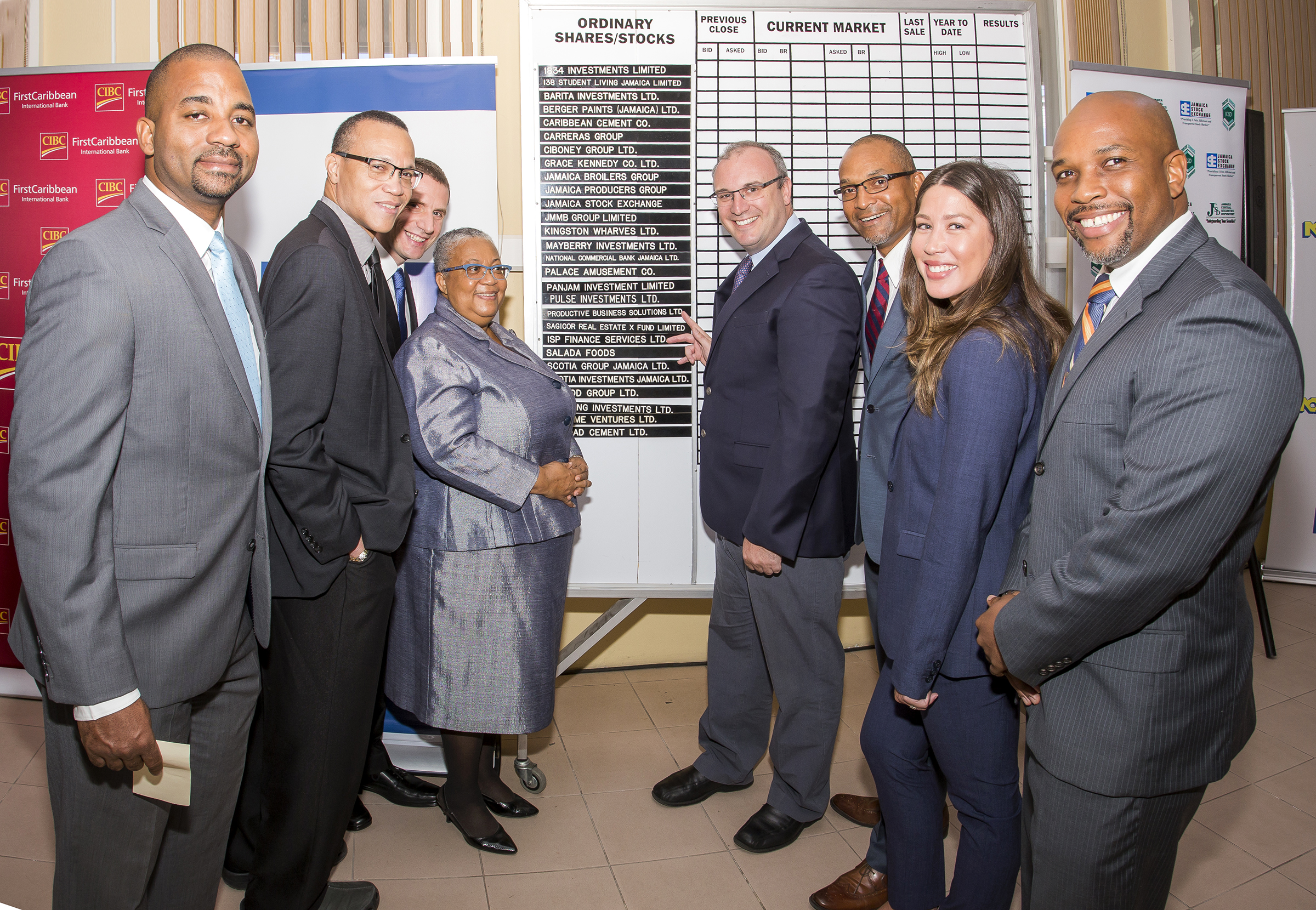 Productive Business Solutions Now Listed On The Jamaica Stock Exchange
Photo Caption:(l-r) Celebrating Productive Business Solutions Limited's (PBS) historical listing on the Jamaica Stock Exchange (JSE) are: Steven Gooden, CEO, NCB Capital Markets Limited; Douglas Cupidon, Head of Corporate Banking, CIBC FirstCaribbean International Bank; Jason Corrigan, PBS Company Secretary; Marlene Street Forrest, Managing Director, JSE and (right) Paul B Scott, Chair, PBS Group; Michael Lewis, General Manager; Sarah Cummings, Associate Director, Investment Banking, CIBC FirstCaribbean International Bank and Herbert Hall, AVP of Investments, NCB Capital Markets.
The Jamaica Stock Exchange (JSE) welcomed Productive Business Solutions (PBS) Limited to the local stock market during a listing ceremony at the opening of trading yesterday.
In June PBS announced that with the aid of NCB Capital Markets Limited as lead broker and underwriter, it was seeking to generate US$41.5M in funding via an IPO that would allow for the deepening of customer engagements, an expansion of its strategic partnerships with multinationals, and an increase in market share, revenue and profits.
The company also indicated that it would use some of the funds raised to repay higher cost short-term USD debt that was initially incurred to fund the expansion of the company. This in conjunction with the equity injection from the IPO is expected to strengthen PBS' balance sheet, therefore, allowing it to take further advantage of organic expansion opportunities.
Commending PBS on joining the JSE family and for raising the capital on the market, Marlene Street Forrest, Managing Director, JSE said the listing paves the way for equity capital to be raised in Jamaica. This will in turn assist companies on the market to grow financially, making local businesses more competitive in the region and externally, thereby increasing the flow of funds to Jamaica's economy.
An additional benefit of the listing Street Forrest explained, is growing appeal of the market to investors who get an opportunity to diversify their portfolios with an increased number of securities. "When the products on the market are attractive, then investors are more inclined to invest, which in turn stimulates the local economy," she said.
It is hoped that this listing will help the JSE to meet its target of 100 securities by year's end, up from the current 91 across 67 companies, inclusive of PBS.
With a customer base of over 12,000 accounts, PBS's distribution spans multiple industries, inclusive of banking, insurance, telecommunications, utilities, manufacturing, distribution, mining, graphic communications, business process outsourcing and education. A subsidiary of the Musson Group of Companies, PBS is the exclusive distributor of Xerox products in Jamaica. PBS is also a part of the PBS Group of Companies, which has a presence in 14 countries throughout the Caribbean and Central America. The company also represents other global brands, such as Oracle and Lenovo, among others.
"PBS reminds us of ourselves, in terms of our regional journey," Herbert Hall, AVP of Investment Banking, NCBCM said. "They currently have operations in 14 regional countries, in the Caribbean and Central America. NCB through NCBCM, itself is on a regional journey as we now have offices in Barbados, Trinidad and Cayman. So, if you map PBS's progress in the region it reflects a similar type of trajectory that we are on, so from that perspective there is an alignment," he added.
Hall believes the partnership with PBS will see NCB taking the necessary steps to expand its brand and make greater strides in the region and beyond.
Though having less than 4 per cent of its business in Jamaica, Paul B. Scott, Chairman, PBS Group said the company was determined to support the local stock market as a way of supporting economic growth.
"Our company is owned by Jamaicans, though not Jamaican. But our economy will not grow if we don't allow capital to grow to good ideas," Scott said. To this end he thanked his team along with NCBCM, CIBC FCI Bank and the JSE lauding the solutions-oriented approach which led to this important historical step. BM