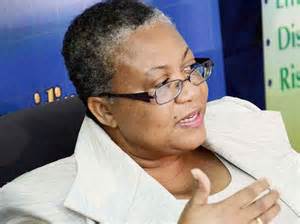 Jamaica Stock Exchange Pushing to Meet Target of 100 Securities by Year's End – Street Forrest
Marlene Street Forrest, Managing Director, of the Jamaica Stock Exchange (JSE) is hoping that the listing last week of Productive Business Solutions (PBS) Limited will help the JSE to meet its target of 100 securities by year's end, up from the current 91 across 67 companies, inclusive of PBS.
Commending PBS on joining the JSE family and for raising capital on the market, Marlene Street Forrest, JSE said the listing paves the way for equity capital to be raised in Jamaica.
These will in turn she said, assist companies on the market to grow financially, making local businesses more competitive in the region and externally, thereby increasing the flow of funds to Jamaica's economy.
An additional benefit of the listing Street Forrest explained is the growing appeal of the market to investors who get an opportunity to diversify their portfolios with an increased number of securities. When the products on the market are attractive, then investors are more inclined to invest, which in turn stimulates the local economy, she said. BM