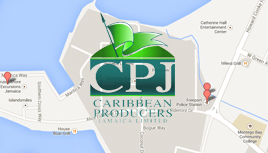 Caribbean Producers Reporting Favorable Movement In Profits From Fairly Stable Economy.
Caribbean Producers Jamaica limited is reporting to shareholders in their recently published annual report for 2017 significant growth in key areas, having realigned the business model to compliment the areas in which it has competitive advantages, this following mixed results experienced in 2016.
Discontinuation of the non-core chemical division was one such action, allowing the company the regain market share in key product segments,
There was a 4.4% or US$4.2M growth in gross operating revenue, moving from US$94.1M to US$98.3m.
The increase in the cost to operating reveues was significantly less by 3.1% or US$2.2M, which resulted in a notable growth of US$2M or 8.1% in gross profits. This as the company recorded improved growth of 143.7.% or US$1.5M in net profit of US$2.6M for the year.
The favorable movement in profits was due to increased market share in key product categories and better execution of the company's pricing strategy as a result of a fairly stable economy. BM
To view Caribbean Producers (Jamaica) Limited Audited Financial Results for Year Ended June 30th, 2017 click HERE