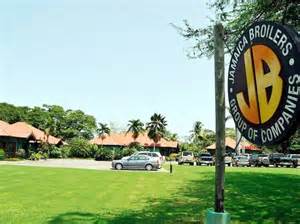 Jamaica Broilers Group Reporting 2016-2017 Financial Year Successful Experienced Growth In All Markets
The Jamaica Broilers Group is reporting that their 2016-2017 financial year was successful having experienced growth in all markets, where in the US, the acquisition of the Welp Hatchery renamed International Poultry Breeders – Iowa contributed considerably to increased revenues.
Robert Levy, Chairman of the Jamaica Broilers Group in his report to shareholders also indicated that having divested the ethanol plant, they were able to focus on core markets increasing inputs towards fertile hatching eggs, breeder and broiler birds in the Jamaica Operations and layer birds in Haiti.
This significantly increased the revenue and profitability of these operations he said as Group turnover moved from JA$38.52 billion to JA$44.44 billion; an increase of 15.3%.
Gross profit moved from JA$10.4 billion to JA$11.8 billion; an increase of 14.3% as pre-tax profit moved from JA$2.8 billion to JA$3billion; an increase of 7.2%.
Net profit attributable to stockholders moved from JA$1.7 billion to JA$2.2 billion; an increase of 28%.
The Directors are however recommending that the interim dividend of 17 cents paid on November 10, 2016 and 18 cents paid on April 26, 2017, be ratified and declared final for the financial year ended April 29, 2017 by the shareholders in the general meeting, as the Directors do not propose to declare any further dividend(s) from the audited profits realised during the financial year ended April 29, 2017.
Going forward Chairman Levy indicated that for the rest of 2017-2018 consolidation would be their focus as they seek to capitalise on the economic stability being experienced in Jamaica and to a lesser extent, in Haiti, and US Operations expected to continue to experience growth.
To view Jamaica Broilers Group Annual Report 2017 click HERE