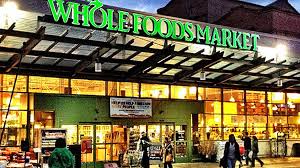 Grocery Stock Prices Tumble On News That Amazon & Whole Foods Will Be Integrating Their Businesses And Will Immediately Set Lower Prices
US based grocery stock prices immediately tumbled yesterday on the news that Amazon and Whole Foods will be working to integrate their businesses and that come Monday customers will immediately see "lower prices on a selection of best-selling staples across the more than 450 Whole Foods stores.
Shares of Kroger, Costco, Sprouts Farmers and Supervalu were all seen trading at session lows. Big-box retailers Target and Wal-Mart also watched their stock prices fall.
Some of the bigger names in grocery are already trimming plans for expansion. Kroger, for example, has said it will cut its store openings in 2017 to 55 from 100,
And Amazon promises "more to come" as the internet giant begins to integrate Amazon Prime into the Whole Foods point-of-sale system and ecosystem. Eventually, Prime members will receive "special savings and in-store benefits."
Amazon promising immediate price cuts puts pressure on traditional grocers that are already operating in a thin-margin business.
Meal-kit businesses, like Blue Apron, have also taken a beating after Amazon announced it would be creating a similar service. BM