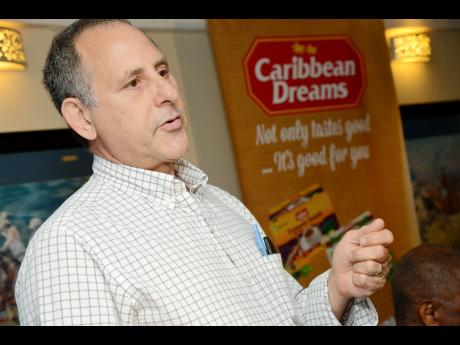 Jamaica Teas Reporting EPS of 9 cents (JA$) From Continuing Operations – Mahfood
John Mahfood, President and CEO of Jamaica Teas Limited has indicated to shareholders that for the rest of the current financial year and into 2018 their focus will be on new products and the construction of an apartment complex in Kingston by end of 2018.
Recently acquired KIW International he said, will transition from a real estate owner to an investment company to take advantage of investment opportunities locally and overseas. Jamaica Teas was able to record a gain of $30 million from their acquisition of the 43% stake in KIW International in April 2017.
Mr. Mahfood, commenting further on the company's performance for the third quarter 2016/17, noted that revenue, driven by a 45% increase in export sales, increased to JA$421 million, an increase of more than $100 million over 2015/16.
This as profits before tax moved up to $67.8 million from the $31.6 million in 2016.
Earnings per share from continuing operations ended at 9 cents for the quarter up from the 4 cents in 2016.
As part of the notes to shareholders Mr. Mahfood indicated that during the June quarter one of the groups distributors in the United States of America, Iberia Foods Company of New York Inc., purchased over 8.7 million shares, equating to 1.28% of the company, a move he said, was a reflection of their strong interest and confidence in the future prospects of the Junior Market listed company. BM
To view Jamaican Teas Limited Unaudited Financial Statements for the Period Ended 30 June 2017 click HERE