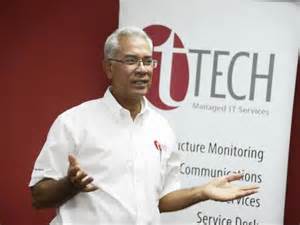 tTech Just Concluded Quarter Was Disappointing As Revenues Fell Below Expectations – Alexander
Edward Alexander, Chief Executive Officer of tTech Limited has indicated to shareholders that despite new customers and projects, the Company's performance for the just concluded quarter was disappointing as revenues fell below expectations.
Commenting on the unaudited results for the three months ended June 30, 2017 tTech recorded revenues of JA$51.2 million, a decrease of 12.3% over the corresponding period in 2016 of JA$58.4 million.
Net Profit or Total Comprehensive Income for the period was JA$6.8 million, a decrease of 35.2% over 2016 of JA$10.5 million.
To reverse the downturn he indicated that a marketing campaign was being reviewed and updated to attract more qualified leads. Other changes include a repackaging of managed services offerings to simplify how pricing proposals are presented.
In addition, new services are being assessed and we anticipate the launch of a new cloud service for enterprise and mid-sized companies in the third quarter. This service has significant revenue potential, is proven in other markets, and should be very competitive compared to similar solutions in the market.
During the quarter the Company signed contracts with new customers primarily in the public sector for security and consulting services. New contracts with existing customers were also realized for Microsoft and server related projects.
TTech however recorded reduced expenses for the period of JA$45.8 million, a decrease of 8.0% over 2016 of JA$49.8 million due largely to the higher cost of goods sold in 2016 associated with the PBX system.
Going forward Mr. Alexander pointed to growing the Company's revenues as the main area of focus at this time. And while they have experienced a slowdown in conversion rates, he was confident that the performance will improve in the second half as there is considerable interest in tTech's services in the market and they have a strong sales pipeline.BM
To view full tTech Limited Unaudited Q2 Financial Statements as at June 30, 2017 click HERE