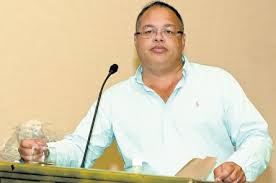 Ian Dear's Express Catering Limited Looks To Raise J$491.25 Million In IPO
Express Catering Limited ) on behalf of its holding company, Margaritaville St. Lucia Inc. headed by Ian Dear, will be going to the local capital market on Wednesday 12 July with an offer of 327.5 million shares at a price of JA$1.50 as it looks to raise J$491.25 million. The offer is scheduled to close at 4 pm, Wednesday 19 July 2017.
The proceeds of the Invitation will accrue to the Selling Shareholder, Margaritaville St. Lucia Inc, who intends to use same
as follows:
• to increase the Group's overall liquidity, and
• for the purposes of improvement and expansion of the Company's operations, and for
working capital and general corporate purposes.
The Selling Shareholder will also pay the expenses of the Company in the Invitation, which the Directors believe will not exceed J$27.5 million (inclusive of brokerage fees, legal fees, accountant's fees, Registrar's fees, filing fees, initial listing fees, marketing expenses, and GCT).
Express Catering is a Jamaican company formed in 2001 to carry on food and beverage operations at the Sangster International Airport in Montego Bay.
The company has grown over the years, to be the exclusive provider of food and beverage operations at the Sangster Airport for Franchises including; Quiznos Subs and Salads, Dairy Queen, Nathans Famous Hot Dogs, Domino's Pizza, Auntie Anne's Pretzels, Wendy's, Cinnabon, Moe's South Western Grill, Island Deli, Viva Fresh Market Grab & Go, Cricket Sports Bar, Connections Bar, Air Margaritaville Arrivals Bar, Jamaican Bobsled Cafe and The Groovy Grouper The Bar.
For the 10 months of financial year to March 2017 revenue grew to US$11.54 million with net profit before tax of US$1.15 million, this compares with revenues of US$11.52 million in the 10 months of 2016 and profit of US$904,144.
Subject to a successful invitation in which all the shares in the invitation are sold, the company will apply to the Jamaica Stock Exchange to list the shares on the Junior Market.
T oview the full prospectus click HERE