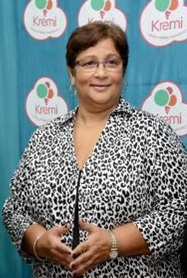 New Kremi Factory Expected To Increase Production Space By 50%, Room For More Expansion In The Future- Clarke Webster
Carol Clarke Webster Chairman of Caribbean Cream Limited is describing 2017 as another successful year for Caribbean Cream and its Kremi brand.
Addressing shareholders in her Chairman's report contained in the company's just released 2017 annual report she highlighted the 76% share price increase to $7.48, above last year's, while realising an increase in net profits of $173 million at the end of the financial year. They were able to complete the construction of a factory building during the year, done to HACCP standards for better flow and in keeping with plans announced when the company was listed on the Junior Market of the Jamaica Stock Exchange.
The completion of the new factory is expected to allow for an increase in production space by over 50%, thereby leaving room for more expansion in the future.
CCL continued to increase its refrigerated storage in our wholesale, retail and convenience store outlets.
Over the period, new ice cream flavours were introduced, primarily catering to students and to correspond with national and international sporting events such as Champs and the Olympics.
Caribbean Cream's 2017 Annual General Meeting is set for Wednesday, October 4, 2017 at the Knutsford Court Hotel, in new Kingston at 10 a.m. BM
To view full report click HERE