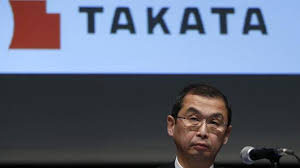 Taking These Actions in Japan and the U.S. Is The Best Way To Address The Ongoing Issues With Certainty And In An Organized Manner – Takata
Japanese automotive supplier Takata has filed for bankruptcy in Japan and the US and that it had agreed to be acquired for US$1.6 billion by the Chinese-owned U.S.-based Key Safety Systems.
In the biggest bankruptcy of a Japanese manufacturer, Takata faces tens of billions of dollars in costs and liabilities resulting from almost a decade of recalls and lawsuits.
Its airbag inflators have been linked to at least 16 deaths and 180 injuries around the world because they can rupture and send metal fragments flying.
More than 100m cars with Takata airbags, including 70m vehicles in the US, have been recalled since concerns first emerged in 2007.
It is the biggest safety recall in automotive history.
Toyota and Honda are also likely to take a hit from the bankruptcy as they may not be able to collect the billions of dollars they are owed by the airbag maker.
Takata CEO Shigehisa Takada said in a statement that they believe taking these actions in Japan and the U.S. is the best way to address the ongoing costs and liabilities of the airbag inflator issues with certainty and in an organized manner.
CEO Takada said he and top management would resign when the timing of the restructuring is set. His family – which still has control of the 84-year-old company – likely, would cease to be shareholders. BM