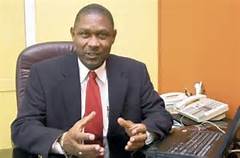 Ordinary Jamaican Families Can Capitalize On Various Financial Prospects That Exist In The Country
John Jackson addressing shareholders at Jetcon Corporation's first Annual General Meeting, as a public company, indicated that the successful performance of Jetcon since listing in 2016, reveals the rich opportunities that exist in Jamaica for Jamaicans to better themselves financially.
Jackson who is chairman of the company, went on to state that ordinary Jamaicans need adequate education, need to cooperate with and trust one another, share our assets in an organized manner and the sky is the limit to what can be achieved.
Many opportunities exist for Jamaicans to profit from, however, they need to learn how to find them. This means, with greater financial sophistication born out of knowledge, coupled with the advent and buoyancy of the Junior Market, ordinary Jamaican families can capitalize on various financial prospects that exist in the country he said.
Commenting further he said that the success of Jetcon and other newer businesses in the country suggests the need for an intervention by the Jamaican authorities to educate Jamaicans on the immense opportunities that exist to lift their quality of life through financial education and investments by pooling of their financial resources.
Jackson was speaking against the back drop of Jetcon Corporation's doubling in profits for 2016 with preliminary data to May 2017, showing revenues rising by 75 percent and profit of approximately 150 percent over 2016. BM