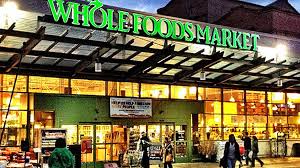 Bezos Targets Big-Box Retailers With Whole Foods Acquisition.
Given its reputation to upended and disrupt book selling, retailing, newspapers and other industries it enters, Amazon.com planned acquisition of Whole Foods Market Inc. for $13.7 billion, has sent shockwaves across both the online and brick-and-mortar industries around the world.
Grocery chain stock prices plunged on Friday with Wal-Mart Stores falling as much as 7.1 percent and Kroger tumbling 17 percent, as investor's hedge against what will amount to be an increasingly cutthroat industry.
With the acquisition Amazon gets a network of stores where it can implement decades' worth of experiments in how people pick, pay for and get groceries delivered, fulfilling a long held ambition of Amazon CEO Jeff Bezos.
Bezos is expected to keep the grocer's reputation for premium fresh foods, but cut prices as he recasts Whole Foods' ailing business, starting with a reduced headcount, lower priced inventory and using upgraded technology to eliminate cashiers, making Whole Foods more competitive with Wal-Mart Stores and the other big-box retailers.BM