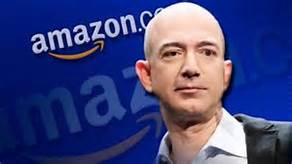 Is Jeff Bezos Now The Richest Man In The World?
Is Jeff Bezos, Amazon's founder and visionary leader now the richest man in the world?
As Amazon shares hit US$1,001.20 in New York yesterday, up about 40 percent from a year ago and more than double the 15 percent gain of the S&P 500 Index, the answer becomes clearer.
Amazon's rise has already made its founding Chief Executive Officer Jeff Bezos the world's second wealthiest person, behind only Microsoft co-founder Bill Gates, according to the Bloomberg Billionaires Index.
Investors have accorded the Seattle based company with a US$478 billion market value, double that of Wal-Mart Stores, even though the world's biggest retailer will have sales three times larger than Amazon's this year.
Investors are seeing more value in Amazon's web traffic and delivery network than they do in Wal-Mart's vast store presence, because online spending will grow more than four times faster than overall retail spending this year as shoppers continue to shift from stores to websites, according to EMarketer Inc. BM