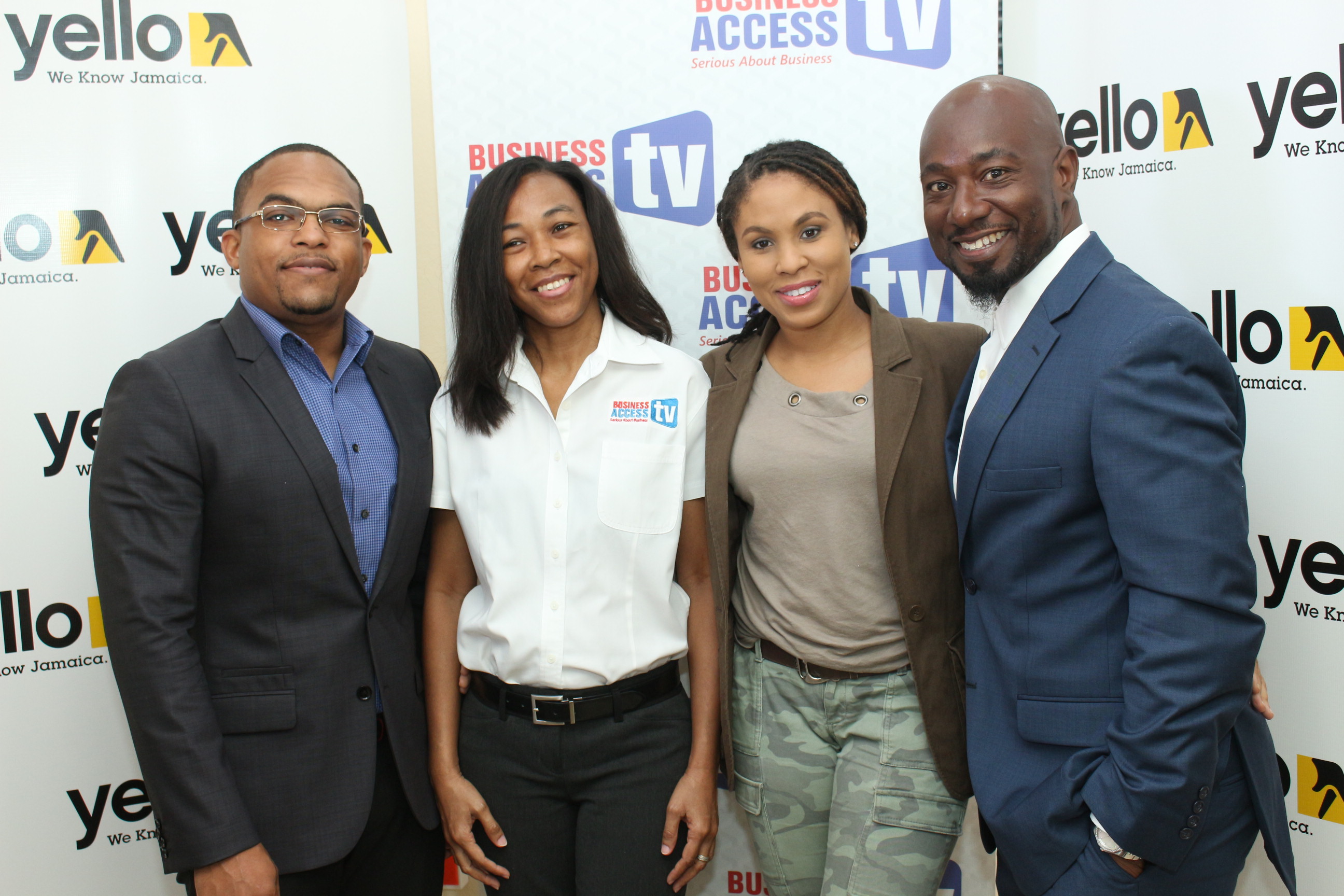 BATV seals exclusive contract with Yello
Photo Caption: (L-R) Collin Francis CEO Yello Media Jamaica, Denzie Stephenson General Manager Business Access Television Ayanna Kirton Marketing Manager Yello Media Jamaica and Garth Walker Managing Director Business Access Television at the signing of an exclusive contract betwen BATV and Yello Media Jamaica at Yello's Head office on Wednesday.
Jamaica's first and only business oriented cable channel Business Access Television (BATV) continues to leave an imprint on the television industry. The company sealed an exclusive partnership with Yello Media Jamaica as an exclusive seller of BATV's Suite of products, at the Yello Head office on Wednesday.
BATV is currently testing in Barbados and Trinidad and Tobago with rollout plans for the rest of the Caribbean later this year. The channel aires on FLOW 145/185 and Digicel Play Channel 45.
The partnership will see Yello Media Group's team of advertising sales consultants now selling Wealth Magazine and BATV's full portfolio of products and services to businesses. Products range from BATV sponsored programmes, TV spot buys, TV Ad production, video production and magazine advertising.
"Business Access TV was formed to be an outlet for small and medium businesses. Advertising is expensive and we want to create a platform where SME's can advertise at an affordable cost. Yello is known as a solution oriented company for small business so this partnership was a no brainer," Garth Walker Managing Director BATV.
This deal comes on the heels of Yello Media Jamaica unveiling a major company rebranding. The company is estatic to be partnering with BATV. The deal to expand the company's advertising solutions portfolio is part of the company's strategic direction to establish Yello Media Jamaica as a full service media entity within the region.
"At Yello, we are always looking for ways to provide innovative advertising solutions that connect businesses to the right audience. We recognize that businesses are looking for a knowledgeable partner that can provide advertising solutions across multiple channels. The quality and targeted nature of BATV's advertising solutions, complemented with our sales consultants' industry knowledge and expertise, makes this partnership effective in servicing the needs of the SME sector," Collin Francis, CEO Yello Media Jamaica.
Both companies' sales teams have undergone extensive product training to equip themselves with the tools required to effectively advise businesses on the best advertising mix to achieve business objectives.
"We pride ourselves on having some of the best and knowledgeable advertising consultants and digital experts that understand Industry trends, business needs and strategies for business growth and profitability. Our portfolio of print and digital advertising solutions have now expanded to include television, which broadens the spectrum and reach that our advertisers will have to local audiences," Francis added.
The BATV sales force now moves to 43 persons