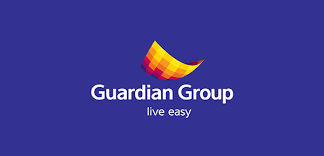 Setting the Tone- The Guardian of the Future
Leveraging leading-edge technology combined with
a focus on people is the recipe for our organisational
and societal success.
Guardian Group is a product of the Caribbean people, its seas, its soil
and its sunshine. Our company rests on the shoulders of 170 years
of human toil, caring and triumph. We are the product of a region
that has nurtured us into a corporation of significant size and put us
into a position where we can start to view the world as our oyster.
As a corporate citizen, Guardian Group owes a debt of gratitude to
the Caribbean Region.
Much is spoken of Corporate Social Responsibility. We take this very
seriously at Guardian Group and target the youth, health, innovation
and those who do not have the fortune to help themselves.
However, big corporations have a responsibility that goes much
beyond sponsorships and donations. We at Guardian Group believe
that we have a responsibility to be a flagship of the Caribbean, to
make Caribbean people proud, to inspire Caribbean entrepreneurs
to be bold, to help transform our society and to provide first-world
opportunities for our children within our shores.
It is with this duty to our society and our responsibility to
generate wealth for our shareholders that Guardian Group
has set forth on our strategy to transform our company to
one that can compete in the insurance field anywhere in
the world while generating exceptional returns.
Since ancient times superior technology has been a key
determinant in organisational and societal success. The
use of technology has turned the tides of innumerable
battles and has made the difference between wealthy
and impoverished nations.
Recent advancements in technology have opened global
opportunities to entrepreneurial businesses regardless of
the size of their home region. We at Guardian Group are
seizing these opportunities. We have already deployed
a world-class telecommunication backbone connecting
all our businesses to each other and to the global
hubs of superior information technology.
The future of financial services lies in automation. We have been
rapidly re-engineering, consolidating and automating
our businesses through the deployment of a number
of leading-edge technologies. We are also laying the
infrastructure to deploy data analytics to anticipate the
needs of our customers and to direct our salesforce to
prospective sales.
Of course technology is useless without people. We are
transforming our management style, communication and
feedback process, performance measurement system
and hiring process with a view to creating a superior work
environment and a workforce that will be as motivated,
disciplined, innovative and productive as any in the world.
We have already begun a number of programmes to shift
our organisational culture to one of extreme customer
focus and productivity that befits any world-class player.
As we build an organisation with a global outlook we
will proudly create job opportunities that do not currently
exist in our region.
Guardian Group is a microcosm of our Caribbean
Region. As our nations must do, we will retain the
best values of Caribbean people while upgrading our
culture, technology and organisational skills to compete
on a global stage.
We are committed to running our operations as efficiently
as we would like our region to
be run, serving our customers by world class standards,
providing tremendous opportunities for our people,
creating wealth for our shareholders and proving that a
Caribbean organisation can compete on a global scale.
Source: Guardian Group Limited 2016 Annual Report