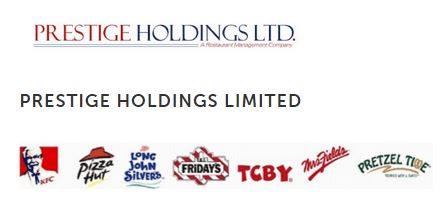 Prestige Holdings Reporting Group Sales Up 6% To TT$253M and Profits Down 25% To TT$9.2M
Trinidad and Tobago based Prestige Holdings Limited in recently published Consolidated Unaudited Results for the Three Months Ended February, 2017 is reporting Group sales increasing by 6% to TT$253 million generated from an average number of 119 restaurants.
In his report to shareholders Chairman Christian Mouttet indicated that first quarter performance was consistent with the conditions they have been experiencing since the second half of 2016, including higher food costs and other inputs as a result of the movement in the exchange rate and higher commodity prices.
Profit attributable to shareholders decreased by 25% to $9.2 million compared with $12.3 million for the same period last year he reported as Earnings per share also declined to 14.8 cents compared with 19.8 cents for the same period in 2016
Going forward Mr. Mouttet expects the T&T economy to remain difficult for some time to come, which will impact all of their brands to varying degrees.
However, as a result of recent initiatives, he expects to see improved results for the balance of 2017.BM
See also