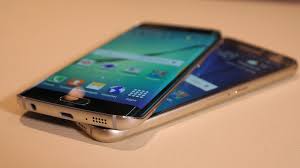 Samsung's New Galaxy S8 Is Packed With A Plethora Of New Features
Consumers who purchase Samsung's new Galaxy S8 phone will be able to access Pinterest's Visual Search without downloading an app. But that is just the tip of what industry analysts are describing as a packed plethora of new features: taller height, a curved screen, encrypted facial recognition, deeper display colors, system-wide voice control and the ability to turn into a desktop computer.
The Galaxy S8 comes in two sizes, a standard 5.8-inch display model and a Plus version with a 6.2-inch screen and features slimmer bezels alongside the display and is curved on all four corners. It comes in five colors: black, gold, blue, silver and gray.
Samsung's corporate logo is now gone from the front of the device, making room for a taller, 18.5:9 ratio screen, which the company is calling the Infinity Display. The new dimensions mean the thin black bars that typically surround widescreen videos can be eliminated, making them look bigger when played. The home button, with vibrating feedback, is integrated into the bottom of the screen. On the software side, users can now clip specific apps to the top of the screen so that, for instance, they can compose emails while reading a web page.
The S8 will also feature a digital assistant that studies its owner's activities to offer helpful tips and information, seeking to challenge Apple's Siri and Amazon's Alexa. Called Bixby, Samsung's service can be activated via the phone's side button. The system has a few parts: one is a standard, Siri-like voice control view, another is a list view of upcoming calendar appointments and reminders. The feature is also integrated with the camera so that it can identify objects like buildings, or a particular bottle of wine. Users can operate many of the phone's functions via voice instead of the touchscreen. BM
Source adage.com