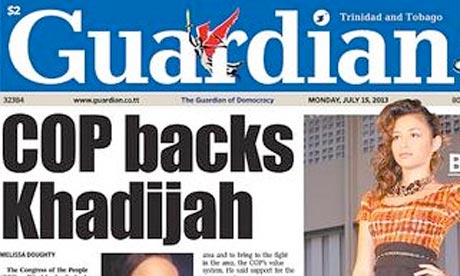 Guardian Media Blames Weak Media Market For Constraining 2016 Revenues And Lower Profits.
Led by a new executive team, in a year which was both challenging and exciting Guardian Media faced a weak media market constraining revenues, which dropped from $209.8M in 2015 to $164.3M in 2016. This, in turn, caused profit before tax (PBT) to decline by $32.6M to $16.3M.
Shareholders were told to note that the increase in the tax rate from 25% to 30% in 2016 has had a major impact on profit after tax. Net deferred tax liability increased by $5.6M as a result of applying the 5% increase in taxation rate. This is a one-off non-cash deduction.
Enthusiastic about the game-changing investments put in motion during 2016 leadership restructured the Company into a multi-media house, delivering integrated news and content to audiences and complete advertising solutions to customers. These included an expanded digital advertising billboard network and continued the development of their Guyanese radio station and completing the first phase of a print optimisation project, enhancing the quality and efficiency of Print production.
Having placed a heavy emphasis on training – both for the leadership ranks and in the areas of content/news development, Guardia Media is relentlessly evolving towards being a digital first media house.
In 2016 they were successful in reducing costs by $10.4M compared to 2015. The Company according to its published report to shareholders operates on a "rock solid" balance sheet of $383.1M in total assets and enjoyed an increase of $4.4M in cash and cash equivalent to $98.8M.
The Board has approved a final dividend of 50 cents per ordinary share, bringing the total dividend to 60 cents per share (compared to 65 cents per share in 2015) and 4% for preference shareholders, which will be paid on 14th June 2017. BM
Edited Extract From The Company's Audited Results For The Year Ended 31 December, 2016