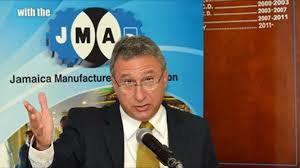 There Are Those Who Would Dare Say That Manufacturing Is Dead. But I Will Let The Facts Speak For Themselves.
The Jamaica Manufacturers' Association Has Devised A Strategy To Get The Sector To Contribute Up To 15% Of GDP Once Again, Bit It Needs Government Support To Move Forward.
The manufacturing sector has contributed 8.5 per cent to GDP compared to the island's biggest driver of growth — the agriculture, forestry and fisheries industry which contributed 7.3 per cent; while mining and quarry contributed 2.2 per cent and tourism 5.8 per cent. The sector employed more than 80,000 people and exported a total of US$803 million worth of goods for the period January to August 2016, while contributing taxes of $55.9 billion for the financial year 2015/2016.
The agriculture, forestry and fisheries industry, however, within recent times has produced a 28 per cent increase in output and was responsible for the lion's share of the 2.2 per cent estimated GDP expansion of the Jamaican economy for the quarter to September 2016.
Challenges such as crime and violence, high energy costs, heavy taxation and government bureaucracy has held back the manufacturing sector's ability to become leaders of the industry within the region.
We have long recognised the devastating impact of crime, and assert that it requires serious actions…What we need is a social partnership for crime fighting where the Government, Opposition and civil society come together, develop and sign off on a crime and justice reform working plan.
There was also urgent need for ongoing tax reform, which includes a review of duties and other charges related to imports and exports and the customs administration fees.
As recently requested by the JMA, the Ministry of Finance has re-established the Private Sector Working Group of tax reform. However, it is still unacceptable that we have a compliance rate of less than 50 per cent. That simply means that we who are paying our taxes are paying for those that are not. This must be addressed with high priority, and other elements of reforms proposed in the Matalon Report and the 2012 Report be re-examined.
Factory space is one of the most fundamental concerns of the association, the demand for the availability and provision of suitable spaces for the productive sector are not being met, particularly for micro and small manufacturers. We have been in dialogue with the Factories Corporation of Jamaica (FCJ) but to no avail…The truth is FCJ has a lot of space but it is currently occupied by non-manufacturers – traders and wholesalers. What we are recommending is that FCJ quickly purchase or build factory space at competitive and concessionary prices to especially the small manufacturers.
Procurement issues is another deterrent to the growth of the sector. Procurement cannot be overstated. As the largest purchaser of goods and services, the Government needs to give higher weighting where there are higher levels of local content. The Government must buy Jamaican if it intends to see employment increase and our economy grow.
I continue to emphasise that every Jamaican product sold assists in creating a job. There can be no substantive growth if we persist on being a nation of importers. Ultimately the manufacturing sector is targeting GDP growth by 50 per cent, from the current 8.5 per cent to 15 per cent; a 20 per cent increase in employment by the sector to 23,000 jobs along with a 20 per cent increase in export numbers by year 2021.
The JMA is already in talks with the Tourism Linkages Hub in partnership with the Ministry of Tourism to host an Opportunities Investment Forum, as well as publish a Supplier's Directory and create a search engine which will be the first point of reference for hoteliers and investors to find local manufacturers. The association is also seeking to build and expand the successful initiatives such as the Speed Networking and Christmas in July events.
Metry Seaga President of the JMA Speaking at a Press Briefing at the Association's Headquarters in Downtown Kingston February 15th 2017.
Source: Jamaica Observer Online