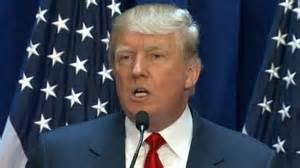 We Are Going To Be Imposing A Very Major Border Tax – Trump
President Donald Trump told business leaders that he would impose a very major border tax on companies that move jobs outside the U.S. and that he would cut regulations by 75 percent.
Speaking at a breakfast meeting today with corporate executives at the White House he said that If companies go to another country and cut U.S. jobs we are going to be imposing a very major border tax on that product.
President Trump also signed an order withdrawing the U.S. from the Trans-Pacific Partnership.