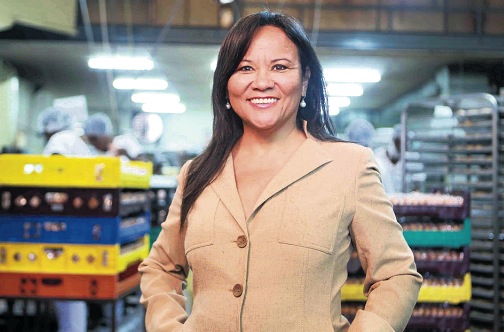 During the year sales increased by 34% while pretax profits increased by 114% – Chong
The Results for the Financial Year 2016 show 34% increased revenue while pretax profit increased by 114%. The revenue increase can be attributed mainly to improved product quality and distribution.
The following gives a summary of how various categories increased over the prior year:
Revenue – 34%
Gross profit – 40%
Finance and Other Income –  42%
Expenses – 26%
During the year sales increased by 34% while pretax profits increased by 114%.
Gross Profits for the period increased by $152 million dollars to $531 million dollars. This represents a 40% increase year over year. Net profits before tax increased by 114% or $80 million dollars and stand at $149.7 million for the year in review. These results represent record breakers for Honey Bun.
Effective 2 June 2016, the 100% tax remission for the first five (5) years after listing on the JSE
expired and the Company was subject to income tax on 50% of its chargeable income for four (4)
months for the year ended 30 September 2016.
At an Extraordinary General Meeting held on 26 May, 2016, the shareholders decided that each ordinary share of the Company be subdivided into five shares resulting in the Authorized Share Capital of the Company increasing from 97,500,000 shares to 487,500,000 shares of no par value, and the issued and fully paid capital of the Company increasing from 94,253,390 shares to 471,266,950 of no par value, with effect from 1st June, 2016.
The price of Honey Bun shares on the JSE increased from eighty-six cents on September 30, 2015 (for the purpose of calculating the price per share, the stock split is treated as having taken place in prior year) to six dollars on 30 September 2016. This represents an increase of over 600%.
cash flow and balance sheet
The Company's balance sheet shows cash increase of 13% closing September 2016 at $72 million
while receivables increased by 12%.
It also shows an increase in noncurrent assets from $308 million to $385 million while investments
increased from $28 million to $39 million. Long term liabilities were reduced by $36 million and
current liabilities were increased by $8 million.
This year two of our loans with the banks were retired early in an effort to reduce interest costs.
Inventory values are up by 9% and have also been strategically planned as part of a larger Supply
Chain Management System.
The Net Book Value of the Company increased by 22% over the year, closing at $503 million dollars
from $411 million in the prior year. The Net Book Value of the Company has increased steadily over
the years from $283 million in 2012.
During the year over J$100 million worth of capital was reinvested in the form of assets. These
assets included vehicles to increase distribution and bakery equipment to improve capacity and
efficiency.
These investments in equipment also form part of our strategy to continuously improve the quality
standards of our products and reduce waste.These form a part of our investment strategy for growth.
Our export plans remain a priority. Exports this year increased by 22% over prior year. The Rum
Cakes were once again sold this year in ASDA in the UK. We have several plans to increase sales
in new markets where there are opportunities, in order to increase our foreign exchange earnings.
Michelle Chong – Chief Executive Officer Honey Bun (1982) Limited
Edited from the 2016 Annual Report. To view the full financial report click HERE