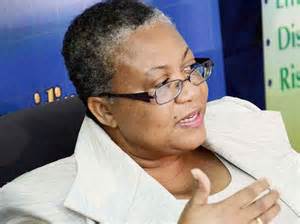 We Are Still A Fragile Country Competing Amongst Global Giants
It is an honour and indeed a privilege to welcome you to this, our Twelfth Best Practices Awards Ceremony. We are one year shy of being a teenager and like pre-teens we have questioned and challenged ourselves on whether we are achieving our objectives.
Also, similar to what we expect that our listed companies and member dealers are doing on a daily basis, we have examined whether we are giving of our best. Like the Exchange itself we are convinced that the Best Practices Awards assist in promoting transparency and best practices by listed companies and member dealers; which are two critical pillars of capital market infrastructure. We continue to have these awards because Best Practices are ever evolving and these awards we believe keep us focused on an important objective, that of giving of our best in these critical areas of business which have been adjudged and for which we eagerly anticipate the results this evening.
While as a country our macro and indeed our micro economic conditions have improved we are still a fragile country competing amongst global giants. In order to survive we must be twice as good and our companies must be able to compete with the best international companies. It is therefore imperative that our compasses move to that of living the best practices.
There is no magic wand that was waived which accounted for the improvements in our macro-economic conditions. We understand that this was achieved through fiscal prudence and better governance, demonstrated not only by the government but by our own companies many of which are represented here this evening and which have embraced the philosophy that good governance is the bedrock of sustainable development and longevity.
For regulated markets such as ours, best practices should be a core mission for all; that is for our brokers dealers, the Exchange and our listed companies as this goes hand in hand with our efforts to promote confidence, transparency and trust in our market and by extension our economy. We understand that the changes that are to made to achieve best practices and excellent results take time, energy and commitment and that this is an investment similar and I daresay equal to that of the investments in plant, machinery and other physical assets. Possibly there should be a specific line item in the income statement accounting for the cost of good governance. We are however pleased that there are now many social tools to measure good governance and its impact.
In an attempt at continuing our efforts to achieve the best practices, last year we informed you that we would launch the Corporate Governance Index towards the end of the first quarter of 2016; we delivered a soft launch sensitizing our listed companies on the components of the index and the measurement criteria. We are happy to report that we have had positive feedback and constructive comments from our listed companies. Further, significant strides have been made in the commissioning of an independent monitoring and evaluating committee for the CGI.
We are pleased to inform you that the monitoring and evaluation will be accomplished through a body for which the PSOJ Corporate Governance Committee will have oversight responsibility. By September 2017, the index which will be refreshed twice yearly, will be officially published. This we believe will have the power to raise to a higher level the country's overall corporate governance standards.
Our Best Practice Awards may be national in nature but our practices designed to achieve excellence are global in their reach and impact. Last year when we achieve the status of being the Best Performing Exchange in 2015, Bloomberg cited not only the performance in our index but made mention of our governance standards. This I believe is a powerful testimony of the importance of Best Practices.
The implications and advantages of best practices are enormous. As we see more cross border trading and activities and as our companies move to cross list on global platforms and other companies seek to cross list on ours, we must be seized with the responsibility to ensure that we operate at the highest and most relevant international standards applicable to good governance. Good Governance and profitability are the corner stones of every great company and we believe this drives profitability.
The Exchange believes this can be demonstrated in the manner in which information is communicated, hence our awards in the category of website, Annual Report and Corporate Disclosure & Investor Relations. Profitability and a direct return on shareholding we believe flows from outstanding corporate governance and this is recognized by our awards to the Best Performing Company and the PSOJ/JSE Corporate Governance Awards. We appropriately crown all this with the anticipated Governor General's Award for Excellence.
Over the years we continue to push the importance of best practices by businesses as a way of improving the investment climate. We wish to commend all the companies that are listed on the Exchange. Contrary to the opinion of some naysayers companies that are listed are at all times held at a higher standard than private companies which is the reason we do not have more companies listed. Best practice is a condition of listing and remaining listed on the Exchange and we applaud the companies that are listed and those that are contemplating listing on the Jamaica Stock Exchange. Transitioning is not without its teething pains but it is certainly worth the premium received from attaining excellence.
We continue to hold these awards as a way of marking your journey and recognising not only the awardees but all of you who lead the daily fight for improvement. We know that the accolades received in previous years of being the best were not arrived at through any one person's solitary action. We are sure it is the collectively energy of your teams that has allowed your companies to shine. We appreciate the power of continuous improvement.
We are indeed proud to have so many companies represented here tonight that have embraced the culture of Best Practices and are on a mission to change the economic landscape. As we continue to promote the importance of Companies upholding the best practices within their organization, The Best Practices Awards tonight is simply a way to say we recognize what your companies are doing and this is also an avenue where your colleagues and competitors can share with you in being recognized for excellence.
Tonight we honour companies that our Committee of judges felt were the best in the categories that were adjudged for the year 2015. We believe that all our listed companies and member dealers here tonight should take credit for their efforts at improving their best performance.
These awards would not have been possible without the commitment of our Best Practices Committee. Thanks is insufficient a compensation for their hard work and dedication but they would have it no other way and we gladly oblige.
These strong willed people have made the meetings held to deliberate on tonight's outcome more than memorable. We thank them and even now wish to re-engage their services for the next year.
I must specially express my profound gratitude to Professor Ying who has chaired the Committee since inception and who has threatened each year that this is his last. We know however that given his commitment to see the continued development of the market he will continue to serve. He will no doubt during the course of the evening's proceedings provide us with qualitative analysis on the companies' performances and tell us more about future plans for the coming year.
Tonight again we call upon our leaders, the captain of many of the best run, best managed companies in this country to continue to strive for the best practices within your organization by encouraging and nurturing a culture of good corporate governance and best practices.
Welcome Address by Mrs. Marlene Street Forrest
General Manager, Jamaica Stock Exchange
JSE Best Practices Awards 2015 Jamaica Pegasus Hotel Wednesday, December 7, 2016